Upcoming Events



36th Spago Seder Dinner – Home Deliver Version 
benefiting Mazon, A Jewish Response To Hunger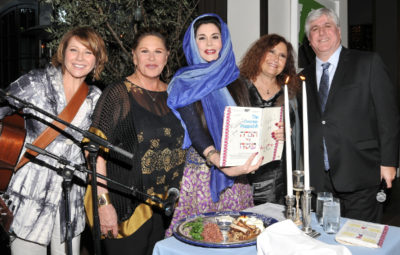 As the original Spago took off, Barbara realized she would miss the tradition of gathering with loved ones for her family Passover Seder, so she created what became a new tradition — sharing the story of Passover with others on the second night.
Every year the Seder funds have helped feed food challenged families in our community. Guest have shared the wonderful tradition of enjoying a delicious meal, music, a meaningful service and the camaraderie of friends and family, while helping those less fortunate. 
This year, in lieu of the serious concerns regarding COVID- 19, Spago is only open for food to go so the annual dinner gathering is regretfully cancelled.
However, rather than our in-person Seder, Spago offers you its…
A complete passover kit delivered to your home…just add wine!
Complete Seder Plate
Home-made Gefilte Fish
Spago Chicken & Vegetable Soup with Judy Gethers' Matzo Balls
Roasted Ora King Salmon with Ginger-Almond Crust
Braised Beef Short Rib "Flanken"
Vegetable Ratatouille & Roasted Moroccan Carrots
Coconut Macaroons
Vahrona Chocolate Souflee Cake
Flourless Chocolate Almond Bars
Chocolate-Chocolate Chip Chewy Meringues
Whipped Creme Fraiche & Pudwell Farms' Berries
Please note that the meal is Kosher-Style, but not strictly kosher.
The kit includes candles, and a link to Rabbi Rachlis & Canter Braier's online, "Virtual" Seder.
And to donate to Mazon…
Typically, as part of your meal fee, proceeds benefit MAZON: A Jewish Response to Hunger — a national nonprofit dedicated to ending hunger among all faiths and backgrounds in the US and Israel. Funds from this Seder remain in the community to help the food challenged families of Los Angeles.
This year, as you order, you may choose to donate directly. Spago has lowered the price to $125 per person so you may select your donation level. Please give.
To order please go here go here and scroll down to the Seder. You can choose either date and a time for curbside pickup (recommended) or delivery.
Wednesday or Thursday, April 8 or 9, 2020 
Pickup at Spago Beverly Hills
176 North Canon Drive
Beverly Hills, CA 90210