Upcoming Events
As we all know, some things may remain in question due to Covid-19 but for 2023 many events are back on track. Barbara may not attend all of these events but she wants to share them with you.
---
Valentine's Day Dinner
at Spago's One-night-only Supper Club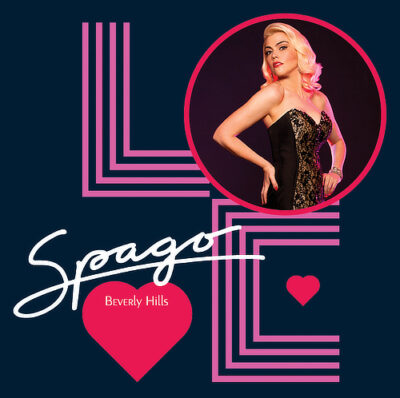 Spago will be transformed into an elegant supper club featuring Verve Recording Artist Brenna Whitaker — Hollywood's Jazz and Blues siren — and her 7-piece band.
Celebrate with Spago's delectable dinner and desserts by Executive Chef Ari Rosenson and Executive Pastry Chef Della Gossett.
Brenna Whitaker, with her larger-than-life stage presence and haunting vocals, is a beacon for jazz aficionados, attracting seasoned entertainers, such as Quincy Jones and David Foster who produced her debut self-titled album.
Choose from three different experiences:
VIP Patio Experience
Dine at your exclusive patio table and enjoy access to the live entertainment at your leisure.
Four-course Selection Tasting Menu Plus Amuse
Includes Sumptuous Seafood Platter
Intimate Patio Seating
$295 per person
Showroom Experience — closest to the entertainment
Three-course Selection Tasting Menu Plus Amuse
World Class Dinner Show
$275 Per Person
Main Dining Room Experience (quieter)
Three-course Selection Menu Plus Amuse
$250 per person
Available upgrades: Caviar, Oysters and other aphrodisiacs
Tuesday, February 14, 2023
Seatings are offered from 5:00 – 10:30 p.m. 2-hour per tabl)
Spago Beverly Hills
176 North Canon Drive
Beverly Hills, CA 90210
(310) 385-0880
Reservations can be made at SevenRooms.com.
Tickets are pre-sold only and are non-refundable.
Beverage, tax, gratuity & supplements not included.
---
Hospitality Design Summit 2023

HD Summit, presented by Hospitality Design (HD) magazine, is the industry's only networking conference focused on ideas outside hospitality.
For over two decades, hospitality design leaders have placed their faith in the HD Summit for ideas, wisdom, insight, and connections. And Barbara again plans to attend.
HD Summit is about one thing: People
There's never enough time to listen and engage in a hyper-speed world. Reconnect with people we know. Introduce ourselves to new ones. Carve three days out of 365 to connect, person to person.
The HD Summit reengages us, recharges our spirits, and rekindles relationships.
From all walks of our industry. Leader to leader. To gain inspiration from unlikely sources. To rethink. To meet. To engage. To share.
Most of all, you build relationships; we all want to do business with people we know and trust.
JW Marriott Desert Springs Resort & Spa
74-855 Country Club Drive
Palm Desert, California 92260
Wednesday, March 8 through Friday, March 10, 2023
For more information, to see videos of past sessions, and to register, please visit Summit.HospitalityDesign.com.
For the full agenda visit this page.
---
Spago's 39th Annual Seder
hosted by Barbara Lazaroff
benefiting Mazon, A Jewish Response To Hunger
This isn't set yet, but please save the date while Barbara and Spago Beverly Hills firm up the date and details.
"I feel if you open your traditions and celebrations to all, no matter your religion, background or customs, it fosters tolerance, greater harmony and closer understanding among all people." ~Barbara Lazaroff
Proceeds from this evening benefit MAZON: A Jewish Response to Hunger — a national nonprofit dedicated to ending hunger among all faiths and backgrounds in the United States and Israel.
Thursday, April 6, 2023
Spago Beverly Hills
176 North Canon Drive
Beverly Hills, CA 90210