Upcoming Events

Light up the Night — a Hanukkah Celebration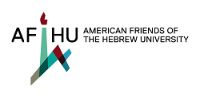 Featuring
Byron Lazaroff-Puck, Celebrity Chef and Restaurateur, continues a family tradition of hospitality and shares a couple of Hanukkah recipes exclusively for AFHU.
Professor Edwin Seroussi, Emanuel Alexandre Professor of Musicology and the director of the Jewish Music Research Center at the Hebrew University, together with his wife, Cantor Marlena Fuerstman, will welcome us into their home sharing some Hanukkah music.
Monday, December 14, 2020
5:30 p.m. Pacific Time
Online via Zoom
To join us, register here.
---
Thanksgiving Perfect Pairing featuring Wolfgang Puck and Jon McDaniel
A Perfect Pairing — a special virtual food and wine event presented by Provence Rosé Group (PRG) and Chef Wolfgang Puck.
Live from the kitchen of WP Test Kitchen at the Pacific Design Center in Los Angeles, Chef Puck will demonstrate his favorite traditional Thanksgiving recipes with award-winning sommelier Jon McDaniel offering up the top rosé pairings by Château de Berne, including Inspiration, Romance and Ultimate Provence wines.

Thursday, November 19, 2020
and on demand
No charge to view
Watch it here on FaceBook Live.
If you can't find it there. look on Château de Berne's Facebook page
---