Barbara Lazaroff in the Press — Print Articles


Barbara Lazaroff is primarily known for conception and execution of singularly unique restaurants.
Her innovative concepts and designs have received critical acclaim.
Her projects and business acumen have been featured in many magazines and books. Barbara Lazaroff has also been interviewed on many TV shows, some radio programs, and in online audio and video interviews.
This page shares a sampling of the newspaper articles in which Barbara Lazaroff has been the subject or an interview.
(This doesn't include articles Barbara has written.)
---
Beverly Hills Courier
Joan Mangum's Society Scene—BH Restaurants Score Big In Global Cuisine Awards
January 8, 2018
The Lead:
The area's top restaurateurs and chefs gathered at the Beverly Hilton to celebrate the 2018 Global Cuisine Awards presented by Global Talents Media Group. Sponsored by Lala Noodle, the awards honored many of L.A.'s restaurants for their contributions to the growing culinary scene.
Beverly Hills was well represented among the winners as Spago, co-owned by Wolfgang Puck and Barbara Lazaroff, was named Best American Restaurant while CUT by Wolfgang Puck, located in The Beverly Wilshire, was saluted as the Best Steakhouse.
---
Jewish Journal — Spot the Celeb at Annual Spago Seder
by Ryan Torok
March 21, 2018
Why is the seder at Spago, Beverly Hills different from all others?
For starters there is the menu, which includes shallot and thyme matzo, homemade gefilte fish, carp and pike, and cookbook author Judy Gethers' matzo balls, prepared with carbonated water for extra lightness. Chef de cuisine Tetsu Yahagi and executive pastry chef Della Gossett are the culinary masterminds behind the selections.
---
Beverly Hills Courier — Kick-Off Luncheon
October 12, 2017
Barbara Lazaroff hosted a kick-off luncheon at Spago for Catherine Gray, founder of 360 Karma and creator of SHE TANK
Excerpt:
Barbara Lazaroff hosted a kick-off luncheon at Spago for Catherine Gray, founder of 360 Karma and creator of SHE TANK.
Beverly Hills superstar chef Cat Cora will be among the main attractions at the SHE TANK competition on Nov. 3 when female entrepreneurs pitch a panel of high-powered women investors as they vie for funding and support for their various business ventures. This will be part of the Live Love Thrive Conference, hosted by entertainer Susan Anton.
For tickets and information, visit www.360Karma.com.
Photo and article here.
---
Beverly Hills Courier
George Christy Talks About Wolfgang Puck, Hollywood Walk of Fame, Spago, Family and more
May 4, 2017
Excerpts:
Wolfgang, O Wolfgang, you are the Pied Piper who introduced Los Angeles to fine and adventurous dining when you and your innovative designer wife, Barbara Lazaroff, opened Spago above the Sunset Strip in 1982.  Arrivederci (so long in Italian!) to that tiresome Los Angeles standby of "surf and turf" (lobster tail and steak).
When Spago opened it was named by the Oscar-winning composer Giorgio Morodor.  Spago translating as "string" in Italian and for whatever undecipherable reason Wolfgang and Barbara Lazaroff were enthusiastic.
Fifteen years later, Wolfgang and Barbara relocated to Beverly Hills, where it is now on North Canon Drive.   And where, as before, they were there day in and night out.  Always welcoming and befriending their guests, from presidents to regulars.  If we may address this in the vernacular, they worked their butts off, becoming philanthropists extraordinaire.
---
Beverly Hills Courier
Joan Mangum's Society Scene
October 21, 2016
Excerpt:
Barbara Lazaroff hosted a luncheon at Spago to benefit Aviva Family and Children's Services, a nonprofit for at-risk children and families. Attendees were part of Aviva's Platinum Associates, which, since its 2001 inception, has raised $1 million+ in support of Aviva's Wallis Annenberg Residential Treatment Program.
Full article and photo here.
---
Restaurant Hospitality
4 successful women in foodservice on overcoming hurdles
by Liz Barrett
Oct 22, 2015
Excerpt:
Insights into women in the industry
"I'm a trustee at the Culinary Institute of America," says Blau. "Last year almost half of the students at the CIA were women, and it seems to be growing every year. There's a great tradition of female restaurateurs, from Lally and Ti Brennan to Egi Maccioni, Barbara Lazaroff, Lidia Bastianich, Alice Waters, Nancy Silverton—the list goes on. I think it's as good an industry as any for women, especially those with an entrepreneurial spirit."
---
Beverly Hills Courier
George Christy Talks About Remembering Pavarotti, Renee Fleming, Andrea Bocelli, Goldie Hawn and More!
October 1, 2015
Excerpt:
Concertgoers included Placido Domingo, who joined Renee and Andrea for an encore; the Salk Institute's pancreativ cancer specialist Dr. Ron Evans; Jack Nicholson;  Goldie Hawn with Kurt Russell; Ambassador John Gavin with wife Constance Towers; Ginny Mancini; Steve Kaplan; Annette and Peter O'Malley; Jolene and George Schlatter; Glorya Kaufman; Eva and Marc Stern; Barbara Lazaroff; Ogden Phipps II with wife Ashley; Gina Furth; Jo Champa; Alexandra Dwek; Susan Niven; Karen and Gary Winnick.
---
Beverly Hills Courier
George Christy Talks About Barry Avrich, Toronto International Film Festival and More!
August 27, 2015
Excerpt:
Having fallen in love with Canada decades ago, we began writing about it during our 11-year tenure as a roving editor with Town & Country magazine.  The civilized life with its refreshing manners, and then more than 30 years ago we began hosting the George Christy luncheon at the Four Seasons Hotel during the festival's first Saturday after Labor Day.  Marvin Gaye joined us, as did Wolfgang Puck, Barbara Lazaroff, Dudley Moore, for the first event, along with the Toronto Sun's social columnist Sylvia Train, who rated festival parties, from zero to 10.  We were awarded an 11.
Full article here.
---
Beverly Hills Courier
Barbara Lazaroff To Present 31st Annual Passover Seder At Spago
March 25, 2015
Excerpt:
Restaurateur and designer Barbara Lazaroff continues the tradition she started 31 years ago with her annual Seder for "family and friends" at Spago Beverly Hills on Saturday, April 4.
Full article and photo here.
---
Beverly Hills Courier
George Christy Talks About Botticelli's Bastard, Joni Berri, Neile Adams McQueen And More!
August 21,  2014
Excerpt:
"If walls had ears … that's the adage that inspired writing my thriller, Botticelli's Bastard.  About a painting stolen by the Nazis in  Paris when they were plundering the best of European art during the 1940s,"  reveals  author Stephen Maitland-Lewis.
We were at the pizza-and-wine book-signing party hosted at Nonna of Italy in Beverly Hills by philanthropist Joni Berry for her award-winning spouse…
Queueing for the book-signing: Florence Henderson, Barbara Lazaroff, Verena King with best friend Bruce Boxleitner (a prince among emcees, as we've observed at Chuck Fries' dinners), Dolores Nemiro (who brings joy year after year with her dancing at the SHARE shows), Alex Berliner, Ruta Lee, Cheryl Kagan, David Niven, Jr., Kate Linder, Norm Crosby, Keith McNutt of the Actor's Fund, Loreille New, Peter Mark Richman, Nonna of Italy's general manager Oscar Rios (who many remember from his being at Spago).
---
Beverly Hills Courier
Barbara Lazaroff To Auction Off Art Objects At Julien's Gallery
June 20, 2014
Excerpt:
Included will be works from Lazaroff's extensive art collection plus such other items as the original chairs she designed for Spago Beverly Hills.  A portion of proceeds will benefit St Vincent Meals on Wheels program.
Full article here.
---
Beverly Hills Courier
Joan Mangum — Professional Dancers Society Says 'Thank Heavens For Leslie Caron'
May 2, 2014
Excerpt:
The Guild of Big Brothers Big Sisters of Greater L.A. presented its annual "Accessories for Success" Spring Luncheon/ Fashion Show at The Beverly Hills Hotel.
Barbara Lazaroff, Lori McCreary and Nina Shaw served as honorary co-chairs, while Christine Harte and Teri Simpson co-chaired.  Lionsgate was presenting sponsor. Jeremy Weinglass entertained on piano.
---
Beverly Hills Courier
Barbara Lazaroff To Once Again Hold Passover Seder At Spago
April 11, 2014
Excerpt:
Barbara Lazaroff, co-owner of the famous Spago restaurant, is once again holding a Passover Seder at the restaurant—her 30th—on Tuesday, April 15.
The annual event benefits MAZON, The Jewish Response to Hunger, which helps feed people in the L.A. community.
Full article here.
---
Beverly Hills Courier
Beverly Hills News – Big Brothers Big Sisters LA Fundraiser at Beverly Hills Hotel Friday
April 8, 2014
The lead:
The Guild of Big Brothers Big Sisters of Greater Los Angeles (BBBSLA) presents its annual Accessories for Success Spring Luncheon and Fashion Show featuring an informal fashion show from Kyle by Alene Too, Friday, April 11, 2014 at The Beverly Hills Hotel.
Honorees include Sandra Stern, COO of Lionsgate Television; Lee Phillip Bell, Co-Creator, of Emmy award-winning daily dramas, "The Young and the Restless" and "The Bold and the Beautiful," and Emmy Award-winning Host of "The Lee Phillip Show;" and Brindell Roberts Gottlieb, community activist and humanitarian.  Five-time Emmy Award-winning actress Heather Tom will emcee.  Barbara Lazaroff, Lori McCreary and Nina Shaw serve as Honorary Co-Chairs; Guild members Christine Harte and Teri Simpson Co-Chair.  Mary Willard is Guild President and Lionsgate is presenting sponsor.
---
Beverly Hills Courier
George Christy Talks About Spago, Lucky Wolfgang Puck, Irving "Swifty" Lazar, And More!
September 19, 2013
Excerpt:
In 1982, Wolf created the iconic Spago.  His then-wife Barbara Lazaroff designed the fun-friendly dining room, with the windows facing nighttime Los Angeles on the Sunset Strip in West Hollywood.
---
California Spirit
July 25, 2013 — Beverly Hills Courier
Excerpt:
Co-host Barbara Lazaroff (right) chats with Chef Gino Angelini of Angelini Osteria and RivaBella prior to Sunday's  "California Spirit XXIX" food and wine festival at Pacific Design Center from 4 p.m. Chefs from 15 of the area's top fine dining establishments will participate in the extravaganza which benefits the American Cancer Society.
---
Beverly Hills Courier
Cal Spirit XXIX' Gourmet Food/Wine Fest Set For July 28, To Benefit American Cancer Society
July 11, 2013
Excerpt:
It's been called the "most delicious Sunday of the year."
It is "California Spirit XXIX," a gourmet food and wine festival  saluting the American Cancer Society which currently is celebrating its centennial year.
Hosted by Barbara Lazaroff and Sherry Lansing, the event will be at the Pacific Design Center on July 28 from 4 p.m.
---
Beverly Hills Courier
Lazaroff To Once Again Hold Passover Sedar At Spago
March 22, 2013
Excerpt:
Barbara Lazaroff, co-owner of the famous Spago restaurant, is once again holding a Passover Seder at the restaurant—her 29th—on Tuesday, March 26.
The annual event benefits MAZON, The Jewish Response to Hunger, which helps feed people in the L.A. community.
"I created this event at the original Spago in Hollywood when I realized there were others like myself who felt nostalgic and detached from their families as life had become more fragmented," Lazaroff said. "Most of my family was back East at the time."
Full article and photo here.
---
The Hollywood Reporter
Wolfgang Puck Plans Return to Malibu
March 22, 2013
Excerpt:
Puck's last foray into the Malibu restaurant game, Granita, opened in 1991 to critical and commercial acclaim. Barbara Lazaroff, Puck's ex-wife and the interior designer of many of the pair's eateries, created an under-the-sea theme for Granita using vibrant pastels and rich blues accented by blown glass, ample mosaics and even a koi pond.
Granita, beloved among celebrities and locals alike, closed in 2005 when Puck and Lazaroff, who divorced in 2003 after a 20-year marriage, chose not to renew the property's lease. Its site, a short drive north of Ellison's commercial development, has remained vacant since the storied restaurant's closing.
---
Beverly Hills Courier
George Christy Talks About Nick Stabler, Dumb & Dumber, Jakarta, Mitzi Gaynor, Professional Dancers Society And More!
March 7, 2013
Excerpt:
Stephen was autographing Ambition nonstop for Mitzi Gaynor and her escort, dancer Steven Byrket, Florence Henderson, Barbara Lazaroff,  Corinna Fields, Lois Aldrin, Joan and Tom Kardashian, Helen Grayco, Norm Crosby with good-looking son Andrew ("in the oil business"), The Courier's Marcia Hobbs and John Seitz.
---
Beverly Hills Courier
George Christy Talks About The Hotel Bel-Air, Wolfgang Puck And More!
November 24, 2011
Excerpt:
Our proud history with Wolfgang dates to 1982 at Spago, and that first week when he, with his winning boyish smile, and fashion-savvy designer wife Barbara Lazaroffopened the doors. Knowing he cooked at Maxim's in Paris and at L'Oustau de Baumaniere at Les Bains de Provence, this was a special opening for Beverly Hills. Sizzle was in the air, and we were there.
Irresistible food. Innovative décor by designer Barbara. A nightscape view of the Sunset Strip fit for the movies. We wrote an entire column about this great addition to the scene in the Hollywood Reporter, mentioned the phone number in the first sentence, assuring our readers this was It.
It didn't take a Ph.D. graduate to figure out Spago would be the hottest spot in town, with Wolfgang at the open kitchen and Nancy Silvertonbaking breads and preparing the sweets. She later created the infamous La Brea Bakery.
Yes, Spago was on fire. Not only good food but an exciting people-watching atmosphere. Not only did the locals flock for Wolfgang's "California cuisine," but scenesters arrived from abroad. As they do today at the Spago on North Canon Drive in Beverly Hills that opened in 1997 after the original Spago closed. Happily for the world at large, Wolfgang has since opened Spagos hither and yon and then some. Spago, by the way, was named by award-winning composer Giorgio Moroder, translating as "string" in Italian. String? Giorgio swore it would bring good luck. It did.
How Wolfgang does it, and where he finds that rock-hard energy while multitasking remains a mystery. Yet he's a dedicated family man, true to his Austrian family genes. Always there, driving his sons to school over the years. Sons Cameronand Byronwith mother Barbara Lazaroff….
---
Beverly Hills Courier
George Christy Talks About Barbara Lazaroff, Wolfgang Puck, Oscar Parties, Jeffrey Katzenberg and More!
September 2, 2011
Excerpts:
Barbara Lazaroff, a caregiver, if you will. Fitting, then, that she'd be honored, along with Dr. David Hardyand Holland Taylor, during the A Faire of the Heart dinner benefiting the Serra Project (1987) and Aid for Aids (1983) in the Crystal Ballroom at The Beverly Hills Hotel, which we long ago christened the Pink Palace in Paradise in a Town & Country cover story. The Serra Project provides financial assistance, housing and other humanitarian services for those with HIV/AIDS.
"I simply can't turn away from pain, poverty, hunger or abuse … I find it our moral obligation to do something, anything to help."
---
Beverly Hills Courier
George Christy Talks About Michal Bone, Dudley Danoff, Hedva Advani, Kathy May Fritz, Billie Jean King and More!
August 11, 2011
Excerpt:
Barbara Lazaroff and mate John Hanwell left early for another dance party. Barbara's being honored during the A Faire of the Heart dinner benefiting The Serra Project and Aid for AIDS on August 24th at the Beverly Hills Hotel.
Full article here.
---
Beverly Hills Courier
George Christy Talks About European Visitors, Wolfgang Puck, Trader Vic's, LA Opera And More!
March 25, 2011
Excerpt:
European friends arrived from the East Coast with a culinary itinerary in hand for a long weekend. First stop: Spago, where they met Laurent Steunou, the loyal assistant general manager for over a decade. After tasting Laurent's dinner suggestions, from the smoked salmon pizza to the fresh fish and those delicate vegetables from Chino Farms, hosannas filled the air.
Any way to say hello to Wolfgang Puck? Not on the schedule. Out of the blue, Wolfgang appears. Any chance of a snapshot with Wolf for their family in Europe? Wolf never disappoints.
As it was, they hit the jackpot, with Spago designer and partner Barbara Lazaroff entertaining guests in a nearby booth. Greetings all around, and another happy photo. Who pops out of the kitchen but Spago's pastry queen Sherry Yard. Hot damn, and one more photo to grace the family album.
---
Beverly Hills Courier
A Grand Night For Singing
December 17, 2010
Photo caption: Israel's international songbird Hedva Amrani with Spago's Barbara Lazaroff and Hedva's composer son Doran Danoff, after Hedva's sold-out concert at The American Jewish University in Bel-Air.
---
Beverly Hills Courier
George Christy Talks About Princess Lilly Fallah Lawrence, Kobe Bryant, Hedva Amrani And More
December 17, 2010
Excerpt:
In the audience were Japanese Consul General Junichi Ihara, Beverly Hills Mayor Jimmy Delshad, who presented Hedva with a proclamation, and Spago's Barbara Lazaroff, who insisted we attend to experience the joyous music of Hedva.
Additionally "way beyond" is the success of the "toy drop" at Spago. Within a week, it's brought in more than $2,000 worth of toys for Children's Hospital in Los Angeles. The brainchild of Spago hostess Ellen Farentino…
---
Beverly Hills Courier
George Christy 09-12-2010
September 24, 2010
Excerpt:
Barbara Lazaroff joined Mitzi's [Gaynor's] guests, says that her chum Tony[Charmoli] walks up hill and down dell every day, exercises, and when not working he keeps his cool by painting and gardening. Little did we know that Barbara studied biochemistry, worked in a hospital for eight years, and claims that hers is the largest Rolodex of top doctors throughout the country.
This weekend marks the 28th year of American Food and Wine's Meals on Wheels that Barbara and Wolfgang Puck host at the Universal Studios Backlot, having raised nearly $20 million to feed those in need.
---
Beverly Hills Courier
California Spirit
August 13, 2010
Excerpt:
American Cancer Society held California Spirit XXVI last Sunday at Pacific Design Center. … Wolfgang Puck, Sherry Lansing and Barbara Lazaroff hosted the event with KNBC's Fritz Coleman serving as emcee.
---
 Beverly Hills Courier
Cantata's West Coast Premiere At UCLA To Benefit Israel Research Cancer Fund
February 5, 2010
Excerpt:
The West Coast premiere of  The Long Bright at 7:30 p.m., Thursday, March 11, at UCLA's Royce Hall will be a concert of hope benefiting the Israel Cancer Research Fund.
The ICRF is a "non-bricks and mortar" foundation that has raised more than $40 million since its inception in 1975, directly supporting the most innovative and effective research scientists who share their groundbreaking knowledge globally.
The event is chaired by Barbara Lazaroff, and "will prove to be an amazing and uplifting evening which through the brilliant work of the ICRF will help present and future generations," she said.
---
Beverly Hills Courier
George Christy
October 2,  2009
Lead:
This weekend celebrates the 27th year for the American Wine and Food Festival.  Organized tirelessly and hosted through the years by Wolfgang Puck and Barbara Lazaroff with their charitable foundation, the festival at the Universal Studios Back Lot, supports the Meals on Wheels program, which home-delivers hot food to the hungry and the homebound.  From its humble beginning in 1982 at the parking space of the former Spago location on Horn Avenue in West Hollywood, the foundation's raised multimillions.  Chefs such as Nobu Matsuhisa participate, as do other local and national invitees, along with vintners, donors and sponsors.
If we could only partake of Wolfgang's superman energy, and Barbara's extraordinary talent of design and event planning!
---
Beverly Hills Courier
George Christy
September 11, 2009
Excerpt:
The Who and the Who of artists and collectors and dealers gathered cheek-by-jowl over drinks.   Who wasn't there would be easier to report.  We caught up with  Sid's Gemini founding partner Stan Grinstein and wife Elyse, daughters Ann and Ellen Grinstein, Berta and Frank Gehry, Guy Dill, Laddie Dill, Chuck Arnoldi, John Baldessari, Kim and Michael McCarty of Michael's, Lenny and Bernie Greenberg, LA Louver's Elizabeth and Peter Goulds, Barbara Lazaroff and John Hanwell, LACMA's Michael Govan, Times critic Christopher Knight, Chris Burden, Joe Goode, Margo Leavin, Bruce Nauman, Henry Hopkins.  Years ago, Pane e Vino's Rod Dyer and I were the first to check out Jitlada and other Thai dining rooms, and we predicted Thai cuisine would be the next big thing.  And it was.
---
Beverly Hills Courier
George Christy
May 22, 2009
The night before, Joni and Stephen and family wined and dined at Spago, where we were catching up with glamour girl Barbara Lazaroff in a sexy floral Cavalli minidress, and her fiance John Hanwell, also a Brit.  Hails from Wells, near Somerset, and Wells is England's "smallest city," renowned as the birthplace of William Penn, after whom Pennsylvania was named, and famed for an irresistibly beautiful 13th century cathedral.
John's godfather is the Royal Ballet's lead dancer, Christopher Gable.  "When I was a kid, I yearned to dance, but there was no hope with my clumsy feet."   He informs that he and Barbara have several projects in the works that they're enthusiastic about.  Barbara, of course, enjoys a titanic success with her Imaginings Design business — she designed the 1982 Spago on Horn in West Hollywood, the 1997 Spago in Beverly Hills, and the 1983 Chinois with its favored Asian fusion cuisine in Santa Monica, among other numerous projects.   She's also partnered with Wolfgang Puck and Carl Schuster in their hugely popular Wolfgang Puck Catering.
---
Beverly Hills Courier
George Christy
March 20, 2009
Excerpt:
We talked with security chief Arthur Kassel, the protector of many, Sandra Moss, Pat Crowley, Barbara Lazaroff, whose exemplary planning of son Byron Lazaroff Puck's Bar Mitzvah last year will not be forgotten…
---
Robb Report
The Ultimate Home Tour: Children's Room
by Samantha Brooks
April 1, 2007
For the 2006 Greystone Mansion Garden & Design Showcase, the participating designers were asked to decorate the home's spaces in a manner that would suit the Doheny family, if members of that once-prominent Los Angeles clan were still living there. Each November for the past five years, the estate, which occupies 18.3 acres in Beverly Hills, Calif., has been transformed into a designer show house that the public can tour. The proceeds from sales of tickets for those tours go toward the home's preservation.
Excerpt:
Standing in sharp contrast to the melancholy tale of Ned Doheny is Barbara Lazaroff's vibrant design for the Greystone Mansion bedroom that she imagined as belonging to a 12-year-old girl. Lazaroff, owner of Imaginings Interior Design in Beverly Hills, is perhaps best known for her interior designs of the restaurants Spago and Chinois, both of which she co-owns and operates with Wolfgang Puck. "From building restaurants, I knew that design has to have a soul in order to sustain," she says. "The reason this room is so successful is because I handpicked every item with the idea that it was for a specific person."
---
Jewish Journal, The Circuit
All About Aviva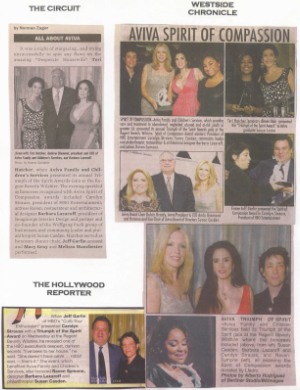 by Norman Zager
June 14, 2006
It was a night of stargazing…and trying unsuccessfully to spot any flaws on the amazing "Desperate Housewife" Teri Hatcher, when Aviva Family and Children's Services presented its annual Triumph of the Spirit Awards Gala at the Regent Beverly Wilshire.
The evening sparkled as honorees recognized with Aviva Spirit of Compassion awards included Carolyn Strauss, president of HBO Entertainment; actress Raven; restaurateur and architectural designer Barbara Lazaroff, president of Imaginings Interior Design and partner and co-founder of the Wolfgang Puck group of businesses; and community leader and philanthropist Susan Casden. Hatcher served as honorary dinner chair, Jeff Garlin emceed and Macy Gray and Melissa Manchester performed.
See the Jewish Journal archive of it here
and
Westside Chronicle
Aviva Spirit of Compassion
and
The Hollywood Reporter
Click the image to see a larger PDF of all 3 articles in a new tab..
---
Private Dining by Design
by Gail Bellamy
Jul 1, 2005
Excerpt
WELL-INTEGRATED ART: "Barbara Lazaroff collected reliefs from Asia, and we built them into the wall and repeated the decor of the glass-with-bamboo screen," Jones notes.
---
Los Angeles Times, Entertainment
Hark, the herald angels sell (for a good cause)
by Diane Haithman
October 27, 2002
The angel netting Saturday's highest bid — $9,000 — was artist Janine Anderson's "Children's Reading Angel." It was purchased by Barbara Lazaroff, wife and partner of restaurateur Wolfgang Puck. The sculpture, whose wings are lined with shelves of real books, also contains Councilman LaBonge's library card, impulsively donated to the project. (No word on whether he has since been issued a new one.)
Last year, Lazaroff purchased an angel fashioned after the Tin Man of "The Wizard of Oz."
It now stands in her yard, along with a theme-appropriate yellow brick road. Lazaroff's latest purchase will not take up residence next to the Tin Man, but will instead be donated to the pr
Private school her 7-year-old son attends.
---
Available for Benefits: A Mansion W/Hef (Sometimes) & Playmates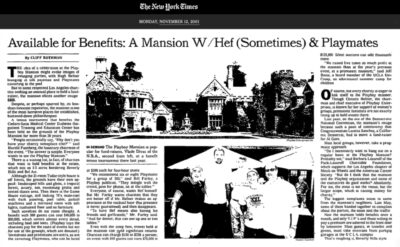 by Clifford Rothman
November 12, 2001
Excerpt:
"Do I necessarily want to hang out on a regular basis at the Playboy Mansion? Probably not," said Barbara Lazaroff of the Puck-Lazaroff Charitable Foundation, which supports the Los Angeles chapter of Meals on Wheels and the American Cancer Society. "But do I think that the mansion and the Playboy organization and some of the executives do good works? Absolutely. For me, the issue is not the venue, but the larger scope, which is raising money for charity."
Read the archived article at the NYT website
---
Los Angeles Times, Business
23 Women in Business Named to Hall of Fame
by Denise Gellene and Marla Dickerson, Times Staff Writers
March 15, 2000
The Los Angeles chapter of the National Assn. of Women Business Owners will induct 23 Southern California entrepreneurs into its Hall of Fame at its upcoming luncheon March 24.
The women being honored have owned their businesses at least since the 1970s. Collectively they generate more than $500 million in annual sales and employ more than 10,000 workers. The honorees:
… Barbara Lazaroff of Imaginings Interior Designs…
---
Los Angeles Times
Out & About column
by Irene Lacher
April 2, 1999
Lead:
Barbara Lazaroff admits it. She had some work done.
Not on herself, heavens, no. Mrs. Wolfgang Puck recently returned from London, where she had a few nips and tucks taken from her wax doppelganger now under construction at Madame Tussaud's. The Pucks will perk up — in perpetuity — when a Las Vegas branch of the famous wax museum opens at the new 6,000-room Venetian Hotel in June.
---
SF Gate
Helping Lytton Gardens Grow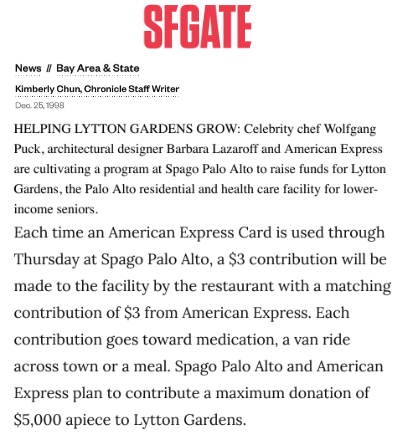 December 25, 1998
Celebrity chef Wolfgang Puck, architectural designer Barbara Lazaroff and American Express are cultivating a program at SpagoPalo Alto to raise funds for Lytton Gardens, the Palo Alto residential and health care facility for lower-income seniors.
Each time an American Express Card is used through Thursday at Spago Palo Alto, a $3 contribution will be made to the facility by the restaurant with a matching contribution of $3 from American Express. Each contribution goes toward medication, a van ride across town or a meal. Spago Palo Alto and American Express plan to contribute a maximum donation of $5,000 apiece to Lytton Gardens.
Click the article image to see a larger version in a new tab.
---
New York Times
Critic's Notebook; A New Spago Points the Way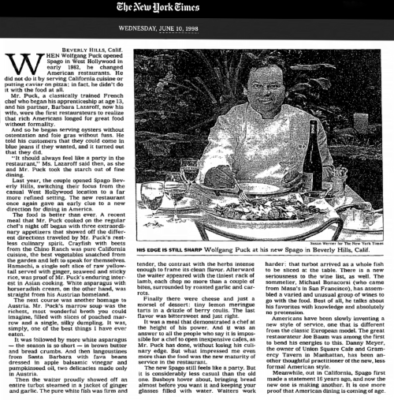 by Ruth Reichl
June 10, 1998
Excerpts:
Mr. Puck, a classically trained French chef who began his apprenticeship at age 13, and his partner, Barbara Lazaroff, now his wife, were the first restaurateurs to realize that rich Americans longed for great food without formality.
and
"It should always feel like a party in the restaurant," Ms. Lazaroff said then, as she and Mr. Puck took the starch out of fine dining.
and
Meanwhile, out in California, Spago first made a statement 16 years ago, and now the new one is making another. It is one more proof that American dining is coming of age.
Read the archived article at the NYT website
---
New York Times
For the Old Hollywood, Last Suppers at Spago
by Bernard Weintraub
March 30, 1998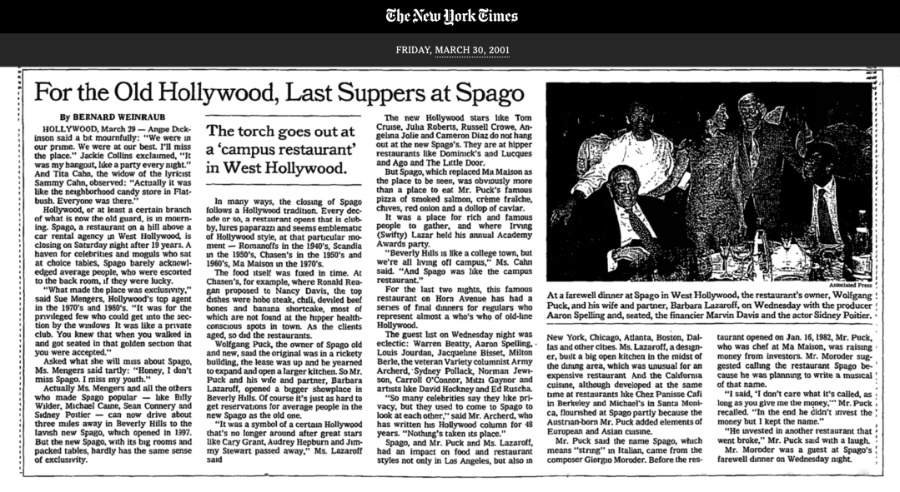 Lead:
Angie Dickinson said a bit mournfully: "We were in our prime. We were at our best. I'll miss the place." Jackie Collins exclaimed, "It was my hangout, like a party every night." And Tita Cahn, the widow of the lyricist Sammy Cahn, observed: "Actually it was like the neighborhood candy store in Flatbush. Everyone was there."
Full article at NY Times archive here.
---
CNN Money
Dinner chatter with Puck
Dining duo Wolfgang Puck and Barbara Lazaroff talk about the food business
From Correspondent Casey Wian
March 6, 1998
Excerpt:
While Puck is busy in the kitchen, his partner in life and business, Barbara Lazaroff, oversees all business affairs and the design of each restaurant from top to bottom, sometimes even cracking and re-setting tiles herself.
"Wolfgang Puck and his wife, Barbara Lazaroff, have it all," says Tim Zagat of the Zagat Survey restaurant guide. "There are endless people, who are either imitating him or trying to, but it's very hard to imitate somebody who is that good and that creative."
---
Los Angeles Times
The New, Improved Spago
by S. Irene Virbila
July 22, 1997
Excerpt:
The restaurant also has a different look. Puck's partner and wife, designer Barbara Lazaroff, working with architect Stephen Jones, has turned the former Bistro Garden into a sophisticated and glamorous space. The dining room wraps around an enchanting garden patio framed by tall, feathery pepper trees. Two century-old olive trees–brought in at enormous expense–shade a fountain inscribed with the word "passion' in 20 languages. Spago's signature open kitchen, where a team of young cooks works the line of back-to-back stoves, is state of the art, closed off from the dining room by color-splashed glass panels. The genius of Lazaroff's design is that almost every table is a good one, whether it's a booth along the walls, a table up front with a view of the kitchen or a quieter corner in the romantic garden. She's left those wire-mesh garden chairs behind at the Spago on Sunset (now called Spago Hollywood) and come up with her own curvy wood and leather designs. For once, Lazaroff has had the good sense not to overdecorate. The result is one of L.A.'s most appealing interiors.
---
Los Angeles Times, Entertainment
New Spago, New Delights
by S. Irene Virbila, Times Restaurant Critic
April 17, 1997
Lead:
Wolfgang Puck's new Spago Beverly Hills opened its doors Monday night and it is spectacular. The site of the old Bistro Garden has been entirely reinvented by designer Barbara Lazaroff, Puck's wife and partner, and architect Stephen Jones. Etched on the glass entrance door are the words, "If you can dream it, you can do it."
---
Los Angeles Times
Rebuild It and They Will Come
April 7, 1997
Lead:
It has been 16 years since Spago first opened its doors on Sunset Boulevard and quickly became the hottest dining spot in town, a place where Hollywood superstars and entertainment power-brokers rubbed shoulders with celebrity gawkers, dining on smoked salmon pizza and other creations of Austrian-born chef Wolfgang Puck.
This week, Puck and his wife, Barbara Lazaroff, are putting the finishing touches on their latest showcase restaurant: Spago Beverly Hills. Located on the site of the landmark Bistro Gardens on Canon Drive, the new Spago has been almost a year in the planning. "I think many people were concerned at first [over what would replace the Bistro], but others were ecstatic that we bought it," Lazaroff said. "
---
Star chef cooks up growth
Wolfgang Puck and wife, Barbara, tell CNN their recipe for expansion
June 12, 1997
Excerpt:
The couple joined Donald Van de Mark on CNNfn's "Bizz Buzz." Here are excerpts from that interview.
VAN DE MARK: I don't know that people understand this, that you currently have a company with a number of upscale restaurants, and less expensive cafes, now a packaged food business, that now is $123 million in revenues, $14 million in cash flow, and you expect to keep growing it very quickly, that is true.
BARBARA LAZAROFF, CO-OWNER, SPAGO: Well, you've been doing your research, except the two company entities are separate. We have the Wolfgang Puck Food Company which is upscale casual dining, the Wolfgang Puck Cafes overseeing packaged foods, and then we have our fine dining entities which are Spago and Postrio, Grenada and Chinois.
Full article here
---
Los Angeles Times, Entertainment
ObaChine: Flavors, Spices of Asia With a Dash of Fun
by S. Irene Virbila, Times Restaurant Critic
November 22, 1996
Excerpt:
In ObaChine, Puck's signature open kitchen comes right out into the room, with seats pulled up to the tiled counter on three sides. The serrated oba leaf motif appears in the guise of molded glass lamps along the walls, as a decoration on the elegant chair backs. ObaChine's whimsical decor is something of a surprise, one of Puck's partner and wife Barbara Lazaroff's more restrained designs.
---
Daily News
Wolfgang Empire Goes Asian
by Larry Lipson or Natalie Haughton
November 1996
Excerpt:
And, of course, the Barbara Lazaroff-designed setting is similarly superb.
Lazaroff, Puck's wife and business partner, took the oba or shiso leaf, sometimes called the beefplant, that is a commonly used garnish and flavoring in Japanese food, as part of the restaurant's name and its theme.
This article was originally linked but has now been removed from the web.
---
There's no rest for Wolfgang Puck and Barbara Lazaroff. The first installment of "Wolf and Barbara in Beverly Hills" will be ObaChine, their Asian cafe…
Beverly Hills' ObaChine Just the Beginning
by MARGARET SHERIDAN, TIMES STAFF WRITER
August. 9, 1996
Lead:
There's no rest for Wolfgang Puck and Barbara Lazaroff. The first installment of "Wolf and Barbara in Beverly Hills" will be ObaChine, their Asian cafe, which opens in late September or early October. It will feature Puck's variations on dishes from Malaysia, India, China, Korea, Japan and Thailand. The couple plans to multiply the concept, opening another ObaChine in the Meridian, Seattle's new downtown development, in November, with more of the Asian cafes planned for around the country.
…
To decorate the interior, Lazaroff has gone shopping for eccentric treasures in Vietnam, Hong Kong and Thailand–which may be why they're planning to open a number of ObaChines.
…
"Spago Beverly Hills will be an adult restaurant," Lazaroff says, "the kind with carved wooden chairs for grown-ups. It will be fine dining, but with a sense of fun, energy and elegance. Nothing staid."
She's spent months redesigning the old Bistro Garden and hopes to create an "infinitely more beautiful space" with fountains, exotic plantings and a design scheme that maximizes natural light and creates a flow between the garden and the indoors. Unlike its predecessor, the new restaurant will serve lunch as well as dinner. "Getting this site was a once-in-a-lifetime opportunity," Lazaroff says with a sigh.
---
Los Angeles Times, Entertainment
Puck Formulating Future of Spago, Bistro Garden Site
by S. Irene Virbila, Times Restaurant Critic
March 1, 1996
Lead:
What he wants to do and what makes the most sense business-wise may not be the same thing, said Wolfgang Puck in a phone conversation from Hong Kong the day before he and his wife and partner, Barbara Lazaroff, set off on a 10-day luxury cruise in Asia. The chef was referring to the idea of moving Spago from its longtime location on Sunset Strip to the larger Bistro Garden space in Beverly Hills.
As soon as he and Lazaroff return from their vacation, he said, they plan to sit down and go over the numbers to see whether it makes more sense to pour money into renovating Spago or to move the 13-year-old restaurant to the fabled Beverly Hills site they acquired last week.
"Of the two of us," Lazaroff said, "usually it's Wolfgang who is more conservative. But this time, he was the one who said right away I really want to do this. And I was the one who was more cautious about it. We discussed the pros and cons for a number of weeks. And, in the end, it was a very large decision, a very emotional decision, like having a new baby."
---
Los Angeles Times
Wolfgang Puck Cafe Another Triumph for You-Know-Who
by S. Irene Virbila, Times Restaurant Critic
October 20, 1995
Excerpt:
A long, open kitchen framed by jazzy broken-tile mosaics with a pizza-slice motif flanks the wood-burning pizza oven, yet another variation on Barbara Lazaroff's design. No opening-night jitters here: The staff is experienced and personable. And like every one of the superstar chef's ventures, Wolfgang Puck Cafe is a totally professional deal.
---
People magazine
Wolfgang Puck & Barbara Lazaroff
by People Staff
October 20, 1995
Excerpt:
It was back in the spring of 1979 that Barbara Lazaroff discovered the way to a cook's heart is through his kitchen. When the Bronxborn college student met Austrian chef Wolfgang Puck at an L.A. disco, he invited her to his Ma Maison cooking class the next day. "I said to myself, 'Uh-oh, I'm in trouble,' " Lazaroff recalls. "He was shy, sweet." When she arrived at the restaurant, Puck looked up and was so captivated, he says, "I dropped a glob of butter on the floor."
Sixteen years later, the playful Puck, 45, and the deadpan Lazaroff, 41, have become the king and queen of California cuisine. His prowess with a pan and her theatrical interior designs have spawned 11 restaurants, beginning with the hugely successful Spago in 1982.
---
Los Angeles Times
by Betty Goodwin
November 3, 1994
Excerpt:
The Carousel of Hope ball, dears, is one party where you don't want to be caught in a plain little cocktail dress and Grandma's graduated pearls.
[more]
Other highlights: The expectant Barbara Lazaroff ("You heard me–I'm having contractions") in a Zandra Rhodes creation, to which she had sewn tiny gold baby bottles and cherubs.
[more]
---
New York Times
So Who Gets What Restaurant?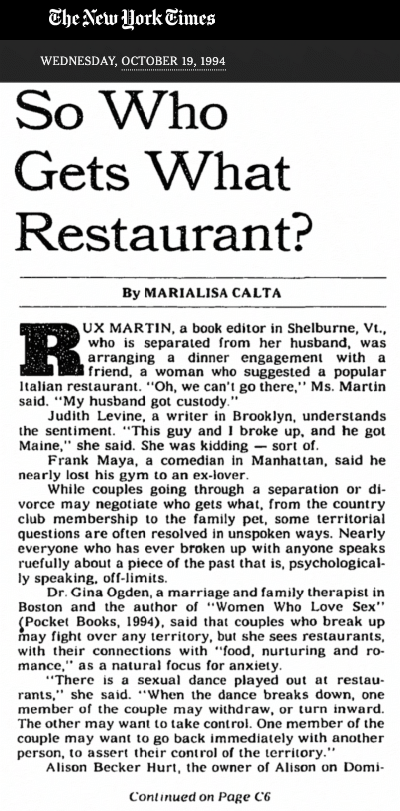 by Marialisa Calta
October 19, 1994
Excerpt:
Barbara Lazaroff, who owns Spago in Los Angeles with her husband, Wolfgang Puck, said a loyal patron once asked her to bar his ex-wife. "I told him I couldn't do it as one woman to another, and I couldn't do it as a business person," Ms. Lazaroff said. "And finally I played on his ego. I told him it would just make him look small."
and
Even civilized divorces can cause problems. Ms. Lazaroff said that the "second-worst night" of her life occurred when seven divorced couples all came to dine. (And the worst night? That was when one customer beaned another with a pepper mill, but that's another story.)
"Usually in these cases, you try to put enough tables between people so they are not sitting on top of one another," Ms. Lazaroff said. "But we just ran out of tables. It was like a giant puzzle. It was torture. We just kept walking in between the tables saying, "Is everything all right?' "
Full article here at the NY Times archive
---
New York Times, A Night Chefs Wear Sequins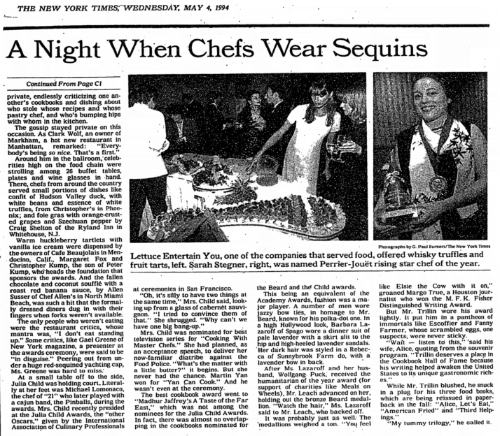 by Georgia Dullea
May 4, 1994
Excerpt:
This being an equivalent of the Academy Awards, fashion was a major player. A number of men wore jazzy bow ties, in homage to Mr. Beard, known for his polka-dot one. In a high Hollywood look, Barbara Lazaroff of Spago wore a dinner suit of pale lavender with a skirt slit to the hip and high-heeled lavender sandals. Her dark hair was styled in a Rebecca of Sunnybrook Farm do, with a lavender bow in back.
After Ms. Lazaroff and her husband, Wolfgang Puck, received the humanitarian of the year award (for support of charities like Meals on Wheels), Mr. Leach advanced on her, holding out the bronze Beard medallion. "Watch the hair," Ms. Lazaroff said to Mr. Leach, who backed off.
Read the full article in the NYT archive
---
New York Times CHRONICLE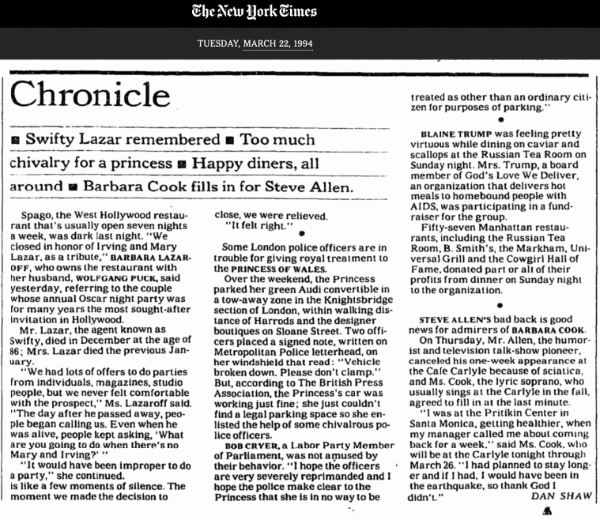 by Dan Shaw
March 22, 1994
In full:
Spago, the West Hollywood restaurant that's usually open seven nights a week, was dark last night. "We closed in honor of Irving and Mary Lazar, as a tribute," BARBARA LAZAROFF, who owns the restaurant with her husband, WOLFGANG PUCK, said yesterday, referring to the couple whose annual Oscar night party was for many years the most sought-after invitation in Hollywood.
Mr. Lazar, the agent known as Swifty, died in December at the age of 86; Mrs. Lazar died the previous January.
"We had lots of offers to do parties from individuals, magazines, studio people, but we never felt comfortable with the prospect," Ms. Lazaroff said. "The day after he passed away, people began calling us. Even when he was alive, people kept asking, 'What are you going to do when there's no Mary and Irving?' "
"It would have been improper to do a party," she continued. "For us, this is like a few moments of silence. The moment we made the decision to close, we were relieved.
Click the image to enlarge it
or
Article in archive at NY Times
---
Los Angeles Times
A Woman's Place: Ruling the Kitchen
By Kathie Jenkins
June 20, 1993
Opening paragraph:
"The reality is that until there are more women as executive chefs," says Barbara Lazaroff, "there will be less women hired in kitchens and less going into the restaurant industry."
We've been reading so much lately about women chefs, it seems as if they're everywhere. But the Year of the Woman has come and gone, and women in major kitchens are still rare.
Now a group of the country's most influential female chefs and restaurateurs met last month in New York to announce the formation of the International Assn. of Women Chefs and Restaurateurs. L.A.'s Lazaroff, co-owner of Spago, Chinois on Main, Granita, etc. and Mary Sue Milliken of City Restaurant and Border Grill were there. So were Anne Rosenzweig of Arcadia and 21 in New York, Barbara Tropp of China Moon in San Francisco, Lidia Bastianich of Felidia in New York, Johanne Killeen of Al Forno in Providence–to name just a few.
[more]
Lazaroff, who also attended that meeting, agrees. "It's all well and good to go through a culinary program or hotel management school," she says, "but when women get out in the real world so many of the people employing them are men. We need more women in positions to sign the checks. That's when people listen to you."
---
New York Times, Home & Garden, Food Notes
Women Organize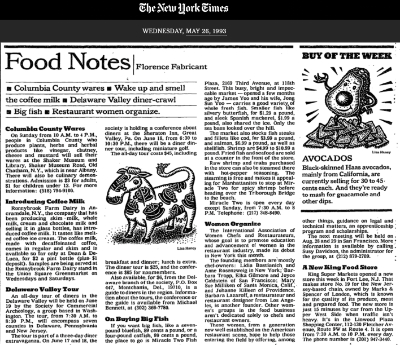 by Florence Fabricant
May 26, 1993
Excerpt:
The International Association of Women Chefs and Restaurateurs, whose goal is to promote education and advancement of women in the restaurant industry, made its debut in New York this month.
The founding members are mostly chef-owners: Lidia Bastianich and Anne Rosenzweig in New York; Barbara Tropp, Elka Gilmore and Joyce Goldstein of San Francisco; Mary Sue Milliken of Santa Monica, Calif., and Johanne Killeen of Providence. Barbara Lazaroff, a restaurateur and restaurant designer from Los Angeles, is another founder. Other women's groups in the food business aren't dedicated solely to chefs and restaurant owners.
Read the archive of the article at the NYT website
---
Los Angeles Times, NEWS
Fred de Cordova: Ageless Honors
by Bill Higgins
June 22, 1992
Excerpt:
Anyone who's had a career that includes directing Ronald Reagan in "Bedtime for Bonzo," Elvis Presley in "Frankie and Johnny" and executive-producing the "Tonight" show for 22 years certainly deserves an award.
[more]
Among the 500 guests were co-chairs Marvin and Barbara Davis and Irving and Mary Lazar; the center's executive director, LaDonna Ringering; founder Sam Genensky and board chairman William Elliott; Betty White; Max Factor III; Barbara Lazaroff, and George and Jolene Schlatter.
---
Los Angeles Times, Food
Where Were You on the Night of Jan. 16?
by Ruth Reichl
January 16, 1992
About 10 and a half years ago, a young chef named Wolfgang Puck decided to open a little pizza parlor.
[more]
To celebrate the anniversary, Puck and his partner/wife Barbara Lazaroff closed and threw a birthday bash.
---
Los Angeles Times
Granita — Spago by the Sea
by Laurie Ochoa
August 18, 1991
The lead:
On the night of the opening of Wolfgang Puck's fourth Los Angeles restaurant, the question on everybody's mind was not "How's the food?" but "What are the good tables?"
At Spago, Puck's original restaurant, the regulars have had years to scope the place out. But Tuesday night at Granita, located in a Malibu shopping center that in another town would hold a discount shoe store and a take-out Chinese spot, the transplanted Spagoites were confused.
Most of them knew not to dress up — ties showed up mostly on the waiters. But where to sit?
Certainly, there are no boring tables — it's hard not to stare at Barbara Lazaroff's design. No surface, it seems, has gone untouched. Some walls are textured, perhaps to create the illusion of water; others are covered with energetic art; windows are etched in some places, embedded with color in others. The open kitchen, where Puck and his crew (headed by Spago alums Joseph Manzare and Kevin Ripley) spent opening night, is framed with what look like wavy tentacles of a sea anemone.
The tables with the best view are, of course, by the door, where on Tuesday you could have seen a Beverly Hills gossip columnist, dressed like an eccentric beach bum, schmooze with Telly Savalas. Victoria Principal preferred a relatively discreet booth near the bar. Tom Hanks and James Brooks wanted to be close to the kitchen action. Puck and Lazaroff's 2-year-old son, Cameron, preferred to wander around and work the room in his own way.
---
 Los Angeles Times
Ray-Ban Getting a Shade Funky — or Is It Elegant?
by Beth Ann Krier
December 6, 1991
Excerpt:
I'D RATHER BUNGEE JUMP FROM WATTS TOWERS THAN SHOP: Chef Wolfgang Puck says he almost always entrusts his partner/wife Barbara Lazaroff to do his shopping.
[more]
"I went to Neiman Marcus the last time I went shopping," he recalls. "I needed a suit so badly. I needed it the day after tomorrow. Since Barbara and I know the manager there very well, she had several ready for me to try on.
---
Los Angeles Times magazine
California Parties  — Past and Future:
The Haute Hostess : Every night's a party at Barbara Lazaroff's restaurants — Spago, Eureka, Chinois on Main. But when Lazaroff goes home she really has a ball.
by Margy Rochlin
November 4, 1990
Lead:
The first party that I really, really remember was the 25th birthday party that I gave for myself. I took a column from Variety to a typesetter who made invitations that read, "Unemployed Actress Throws Surprise Quarter-of-a-Century Birthday Bash for Herself." Then, I cooked for a week. Lasagna. Things like that, because some of it had to be frozen. Two hundred people came. You know, my most intimate friends. Shortly after that, I met Wolf (husband Wolfgang Puck). Now, it's great. I have a built-in chef, the best catering company in town.
[more]
Creating a good party is a spiritual thing to me. I think to give a wonderful party for the friends you love and appreciate is a most important thing. When I invite people to my house, I don't want anything from them–and I hope they don't want anything from me, except friendship.
[more]
---
Los Angeles Times, Entertainment
Puck Does It on a Grand Scale at Eureka
by Ruth Reichl
June 1, 1990
Lead:
The first customer who came in raved about the fabulous sculptures that dominate the front of the restaurant, towering above the bar from their own glassed-in room. They are pretty fantastic–three huge orange vats in which an aqua liquid circles in a perpetual whirlpool. But these sculptures are functional; they are the tanks in which the beer at Eureka, 1845 S. Bundy Drive, Los Angeles, (213) 207-1000, is brewed.
But then, everything at Wolfgang Puck's latest place is on a grand scale. Designer Barbara Lazaroff has thought big, creating an atmosphere that is somehow beautiful, macho and comfortable all at the same time.
---
Los Angeles Times, NEWS
Students Exhibit Their Own Styles
by Barbara Foley
May 11, 1990
Excerpt:
With spring temperatures hitting 90-something degrees earlier that day, sunburns were as plentiful as the de rigueur short black cocktail dresses many women wore to the 10th annual Otis/Parsons Critics Award Fashion Show on Saturday night. More than $525,000 was raised for the design school's scholarship program, while guests were treated to dinner, dancing, a solid show of student designs and a silent auction.
[more]
Meanwhile, in the silent auction bidding was fast and furious. Barbara Lazaroff, restaurateur and wife of chef Wolfgang Puck, was holding back.
"People see my name and they immediately start bidding against me. I've spent thousands here," Lazaroff said. "A lot of my honeymoon clothes were designed by Otis/Parsons st udents."
---
Los Angeles Times, NEWS
Top-40 Shower Debut
by Kevin Allman
May 3, 1990
The lead:
The Scene: Tuesday night's baby shower for disc jockey Casey Kasem and his wife, Jean. Five hundred friends packed the ballroom at the Regent Beverly Wilshire for the "Power Shower" with a '50s theme.
The Buzz: It was the culmination of 10 years of trying to conceive, according to Jean, who was wearing a maternity poodle skirt and Nike saddle shoes. "We were in the first test group of a very experimental program at UCLA, and I've been in bed resting for months," said Jean. "That's why we're having one megashower instead of several small ones."
Who Was There: Valerie Harper, Ron Kovic, Martin Landau, Gloria Allred, Clifton Davis, Lou Ferrigno, Gary Owens, Ken Kragen, Barbara Lazaroff and Mr. Blackwell, who has made Jean Kasem a fixture on his annual worst-dressed list.
---
Los Angeles Times, NEWS
After Oscars: Time to Shine: Swifty Lazar Does It Again at Spago
by Kevin Allman
March 28, 1990
The lead:
Most of the year, Irving (Swifty) Lazar is a literary agent. On Oscar Night, though, he and his wife, Mary, throw the party of the year at Spago. It's no longer the only bash in town, but it's still the biggest stop for the biggest stars. And everyone wants in.
Ask Maury Povich of "A Current Affair," who arrived with wife Connie Chung. "I couldn't make this party on my own," he said. "I just got in because Swifty is in love with my wife.
Or you could ask Jackie Collins, who was there for the eighth year in a row. All night she snapped photos of guests such as her sister Joan Collins, Michael and Shakira Caine, George Burns, Rupert Murdoch, James Stewart, Michael York, Mary McFadden, Tina Brown, Raquel Welch, Freddie Fields, Fred de Cordova, Marvin and Barbara Davis, Gene Kelly, Georgette Mosbacher, Lesley Ann Warren, Don Rickles, Bob Newhart, Farrah Fawcett, Ryan O'Neal and more.
As usual, everyone yelled for the winners, hugged their host, greeted Spago owners Wolfgang Puck and Barbara Lazaroff, and chowed down on pizzas. Champagne flowed like water, but since this is the '90s, the Evian also flowed like champagne.
The real party didn't begin until well after 11, though, when the limousines began arriving …
---
Los Angeles Times
THE '80s A Special Report
December 24, 1989
by Ruth Reichl
The lead:
"I was so nervous when I left Ma Maison," Wolfgang Puck once said. "I put on 25 pounds. Patrick (Terrail) went around telling everybody that I was a great cook but that I couldn't manage anything. It was a terrible time."
That, of course, is history. Less than a year later, on Jan. 16, 1982, Spago opened.
[more]
This is what it did do: change restaurants in America forever. For Puck, and his wife, Barbara Lazaroff, were the first to recognize that the old era of formal dining was over. They realized that rich people didn't want to eat rich food anymore–and that they didn't want to dress up in rich clothes either. Puck created a new kind of restaurant that epitomized casual chic.
---
Los Angeles Times
by Ruth Ryon, Times Staff Writer
June 26, 1988
Excerpt:
Celebrity chef Wolfgang Puck expected to close the deal as long ago as March, but he finally signed the papers last week, and now his Malibu restaurant, "Granita" (an iced coffee drink), is more of a reality. Puck's wife, decorator Barbara Lazaroff, plans to design the place like Spago, their chic West Hollywood restaurant.