Past Events 2010
The 28th Annual American Wine & Food Festival
On September 25, 2010 for the 28th time…
the culinary elite cooked up an unrivaled epicurean feast paired with fine wines and spirits. The spectacular setting of the Universal Studios' Back Lot show-cased live bands, a silent auction and a few surprises.
On Sunday, September 26, a limted number of guest enjoyed the Chef's Grand Tasting Dinner at Spago Beverly Hills. Wolfgang Puck, Lee Hefter & Barbara Lazaroff along with Executive Pastry Chef Sherry Yard welcomed Dominique Ansel of Daniel, New York City, Paul Bortolotta of BARsTOLOTTA, Ristorante di Mare, Las Vegas, Nobu Matsuhisa of Matsuhisa, Beverly Hills, Charlie Palmer of Aureole, New York City, Santi Santamaria of Restaurant Con Fabes, Barcelona, Spain, and Michael White of Marea, New York City who all prepared an elegant, six-course meal at the 11th Annual Chefs Grand Tasting Dinner. These celebrity chefs each prepared one course for the grand gala dinner to create an evening filled with exquisite dishes.
As with all previous AWFF events, proceeds supported the Los Angeles Chapters of Meals On Wheels, helping serve thousands of meals each day to Los Angeles' homebound senior and disabled citizens. To learn more about it you can start on Barbara's Philanthropy/Giving page.

---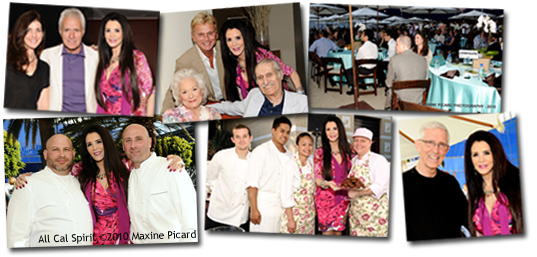 Cal Spirit XXVI
On August 8, 2010 Barbara co-hosted her 26th annual California Spirit Event for the American Cancer Society, along with co-hostess Sherry Lansing and co-host Wolfgang Puck. It featured gourmet creations by Los Angeles' most renowned chefs, premium California wines, live entertainment, and a live and silent auction.
---
AWFF Evening On The Beach

On July 29, 2010, the AWFF introduced the first Evening On The Beach. 350 guests enjoyed an exclusive festival pre-party. Then, on the sands of Santa Monica, guests enjoyed the summer sunset with crackling fires, great music, and scrumptious grilled dishes under the stars.
---
Kindred Spirits
Sunday June 13, 2010
Walt Disney Concert Hall, Downtown Los Angeles
Barbara received KindredSPIRITS' Humanitarian Award as KindredSPIRITS' special honoree as part of a fabulous evening of world music that celebrated unity and peace. Barbara's also selection for beneficiary was Mazon, A Jewish Response To Hunger.
Grammy award-winning singer/songwriter, Melissa Manchester joined the 60-Voice Gospel Choir from Faithful Central Bible Church, the Los Angeles Jewish Symphony, under Dr. Noreen Green's direction, and noted artists: Ilan Davidson, tenor; Chayim Frenkel, tenor; and Ilysia Pierce, soprano.
---
The Long Bright Cantata

Supporting the Israel Cancer Research Fund in their global work to cure cancer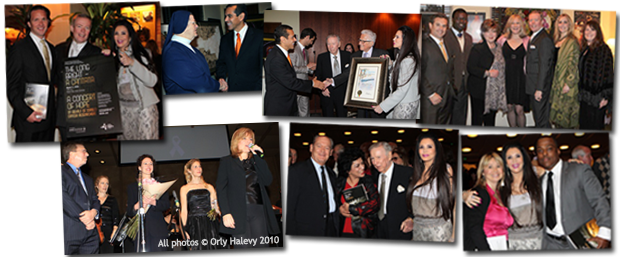 March 11, 2010
Thanks in part of Barbara Lazaroff's chairmanship, the ICRF had a highly successful fund-raiser.
This evening of events was built around a performance of The Long Bright, a cantata composed by Andrea Clearfield with text by David Wolman. It featured Grammy award-winning soprano Hila Plitmann under the artist direction of conductor Dr. Noreen Green, of the Los Angeles Jewish Symphony. Many thanks go to Dr. Green starting with a thank you for bringing this idea to the ICRF.
---
Spago's 26th Annual Seder

benefiting Mazon, A Jewish Response To Hunge
r


March 30, 2010
In 2010 Barbara hosted the 26th annual gourmet Seder, conducted by Rabbi Arnold Rachlis D.D. and Cantor Ruti Braier.
Over 200 people attended! It was, as always, quite a celebration.
Fragrant dishes included a "killer chicken soup" with fluffy air light matzoh balls, Spago chopped chicken liver, gefilte fish made from fresh pike, whitefish and carp, roasted chicken, and almond crusted salmon (courtesy of the talents of Spago's Jewish chef, Lee Hefter and Japanese chef, Tetsu Yahagi). Being a Spago Beverly Hills event, it was, of course, topped off with a sumptuous array of desserts by Spago's Sherry Yard. (Her macaroons are the best!) Spago sommelier Chris Miller poured exceptional kosher wine this year: Red C Cabernet Sauvignon 2003, Napa Valley, and Chardonnay Lavan 2008, Russian River Valley.