2021 Past Events





Here are some of the events that Barbara Lazaroff helped with, spoke at, or supported in 2021.
---
12th Annual Bel Air Affaire 2021
Hebrew University: Making the World a Better Place
Thousands of outstanding and deserving B.A., M.A., and Ph.D. students at the Hebrew University of Jerusalem are in need of scholarships. We hope you will attend and celebrate AFHU and our 2021 Humanitarian Torch of Learning Award Honorees Steve Frankel and Dan Ricketts. The greater your contribution, the more students you support.
American Friends of the Hebrew University (AFHU) is a national, not-for-profit 501 (c)(3) charitable organization. We exist to connect the passions of Americans to the talent at the Hebrew University of Jerusalem, one of the world's most distinguished academic and research institutions.
Saturday, September 11, 2021
6:00 p.m.
To be held at a private residence
Tickets are $2,750 each
To learn more visit this event page at AFHU.org.
---
H.D. Expo & Conference
Barbara was not able to attend this year. However, this is another great event for those of you in the industry.
HD Expo + Conference is the largest hospitality event of its kind in the country, showcasing the latest products, services, and innovative developments from the industry's leading manufacturers.
HD Expo + Conference connects the hospitality design industry over two days of product exploration, incomparable education, and limitless networking. It's home to next-gen innovation + breakthrough launches.
Be inspired: Become part of the industry's collective, creative buzz. Learn from thoughtleaders and influencers behind some of industry's most prolific, imaginative projects.
Tuesday, August 24 & Wednesday, August 25, 2021
Mandalay Bay Convention Center
3950 Las Vegas Blvd
South Las Vegas
For full information please visit: HDexpo.HospitalityDesign.com. There is also a health and safety page.
---
H.D. Summit
Barbara was not able to attend this year. However, this is quite an event for those of you in the industry.
HD Summit is the industry's only networking conference focused on ideas outside hospitality, because everyone needs new sources of inspiration. This invite-only event is designed to sharpen executive leadership skills and to provide the big ideas needed to stay ahead of the competition.
Each year is different with new information from top global thought-leaders, academicians, researchers, authors, innovators, inventors, and strategists—all in an atmosphere focused on idea gathering, raw networking, and relationship building.
HD Summit serves as the industry's leadership think tank. Past delegates and sponsors have called it "thought camp"—and that fits perfectly.
Wednesday August 11 – Friday, August 13, 2021
Resort at Squaw Creek
400 Squaw Creek Road
Olympic Valley, CA 96146 (Lake Tahoe area)
For full information including to learn about registration, please visit Summit.HospitalityDesign.com
---
American Institute of Architects Los Angeles (AIA/LA)
Restaurant Design Awards


These awards, which honor excellence in the design of restaurants, cafes, bars, lounges, and nightclubs.

Thursday, August 12, 2021
A+R Furniture
777 S. Alameda Street
Building 1318, #100
Los Angeles, CA 90021
ROW DTLA
For more information, please visit this page at AIALosAngeles.org.
---
Passover Seder
As Covid continues to change our lives this year, it's open with a fabulous new outdoor dining area. However events are still somewhat limited. A note from Barbara about Passover…
Dear friends & patrons,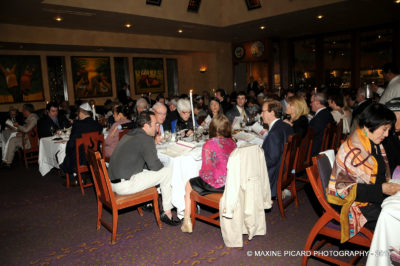 Our Spago Passover Seder benefiting Mazon – A Response to Jewish Hunger has been a warm and delicious tradition for close to four decades, gathering family and friends and supporting those in need in our community.
Unfortunately, we cannot conduct our 37th Seder this year due to health restrictions and space constraints. We are looking forward to continuing the tradition next year on Saturday April 16, 2022.
We hope you will still consider making a donation to MAZON whether or not you chose to order food.
Your donation will provide food for hungry children, elderly and families. Your gift, regardless of the size of the contribution will help someone less fortunate; the need has become greater than ever.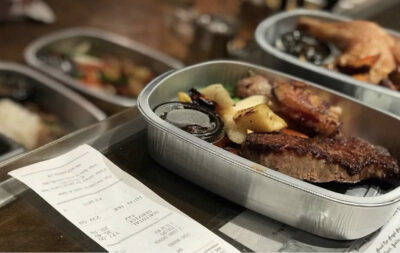 We have created a Spago Seder to Go; both a la carte items and dinner packages.
Please call (310) 385-0880 to inquire how you may purchase Seder to Go, or go online to exploretock.com/SpagoBeverlyhills.
For Spago dine-in guests, our Chefs have created a few Passover favorites for the menu March 27 and March 28 (along with our other menu offerings).
We hope to see you next year at our Seder and wish you health and strength.
With gratitude to everyone from the entire Spago family,
Barbara Lazaroff