Barbara Lazaroff — Giving, Caring Philanthropist


The causes/charities nearest to Barbara's heart


Barbara has long been deeply involved with a variety of humanitarian causes. Together with Wolfgang Puck, she created the former Puck-Lazaroff Charitable Foundation to share the benefits of their success. This foundation raised over 30 million dollars for Meals-on-Wheels and over 15 million dollars for the American Cancer Society. She has long done much, much more, putting her engeries and expertise into several Boards of Directors and varied charitable works have touched most every area of philanthropy from humanitarian, social, and educational to environmental, artistic and medical including Girl Scouts, Big Sisters, and the Hollywood Women's Political Committee.
In 2013 NAWBO-Los Angeles, the National Association of Women Business Owners-Los Angeles Chapter, awarded her their Legacy Award for Philanthropy. Some years earlier, along with co-recipient Chef Wolfgang Puck, she received the James Beard Humanitarian of the Year Award as well.
Barbara is a very active participant in various women's education and empowerment organizations. She was one of the original members of NEWH-Los Angeles. She was a founding member of the International Association of Women Chefs and Restaurateurs (WCR). In 2000 NAWBO-LA inducted her into their 2000 Millennium Hall of Fame for business acumen and leadership.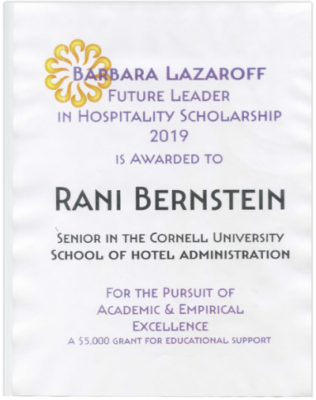 In 2016 Barbara started her own scholarship, the Future Leader in Hospitality Scholarship For The Pursuit of Academic & Empirical Excellence. This is a $5,000 stipend is awarded annually to a female student at Cornell University School of Hotel Administration to help with her educational expenses. Guiseppe G.B. Pezzotti, Cornell's Senior Lecturer-Food & Beverage Management, accepts and screens the applications to help choose each year's recipient.
Barbara's favorite charities:
Since – Charity
1982 – Meals on Wheels America (MealsOnWheelsAmerica.org)
1984 – MAZON: A Jewish Response to Hunger (Mazon.org)
1984 – American Cancer Society (Cancer.org)
1997 – Fulfillment Fund (fulfillment.org)
2000 – Big Brothers Big Sisters of Los Angeles (BBBSla.org)
2004 – Citymeals on Wheels (CityMeals.org)
2005 – Zimmer Children's Museum (ZimmerMuseum.org)
2006 – Aviva Family & Children's Services (AvivaCenter.org)
2008 – American Friends of the Hebrew University (AFHU.org)
2009 – Jewish Life Television (JewishLifeTV.com or JLTV.tv)
2009 – The Jeffrey Foundation (TheJeffreyFoundation.org)
2009 – Israel Cancer Research Fund (ICRFla.org)
2009 – Friends of Sheba Medical Center (ShebaMed.org)
2010 – Kindred SPIRITS (KindredSpirits.org)
2010 – National Breast Cancer Coalition Fund (Deadline2020.org)
2011 – Alliance for Housing & Healing (AllianceHH.org)
2011 – Tower Cancer Research Foundation (TowerCancer.org)
2011 – Los Angeles Museum of the Holocaust (LAmoth.org)
2012 – Women's Guild Cedars-Sinai (WomensGuildCS.org)
2012 – United Cerebral Palsy (UCP.org)
Here are more details and photos from some of the events:
American Wine & Food Festival | The California Spirit Event | Mazon | Aviva |Friends of Sheba
Zimmer Children's Museum | Israel Cancer Research Foundation | Jewish Live TV | Big Brothers Big Sisters LA
---
American Wine & Food Festival (AWFF)
In 1982, together with Wolfgang Puck, Barbara created the former Puck-Lazaroff Charitable Foundation — a chief supporter of Los Angeles Chapter of Meals on Wheels, which founded and hosted 28 years of the iconic American Wine & Food Festival in Los Angeles and raised over 30 million dollars to provide meals for the homebound, disabled and elderly citizens of the Los Angeles community. One of America's premier culinary events, the AWFF featured an unparalleled roster of star chefs from around the country, a world-class selection of wines and spirits, exceptional auction items and entertainment. Barbara co-founded AWFF to share the success that she and Wolfgang were enjoying in the food industry.
---
The California Spirit Event — Cal Spirit
In 1993, with Sherry Lansing, Barbara Lazaroff and Wolfgang Puck founded the annual California Spirit Event. Over the years, it raised millions of dollars to support the American Cancer Society in its mission to eliminate cancer through research, education, and advocacy. The Cal Spirit Event featured gourmet creations by Los Angeles' most renowned chefs, premium California wines, live entertainment, and a spectacular live and silent auction.
---
Mazon
Barbara has been supporting Mazon since 1984. In 2019, Barbara hosted the 35th annual Passover Seder benefitting MAZON, A Jewish Response To Hunger. which is a national nonprofit working to end hunger among all faiths and backgrounds in the United States and Israel. The dinner raises funds that help families in Los Angeles.
Each year, on the second seder night, patrons enjoy one of the most gourmet traditional kosher Seders while supporting Mazon's drive to eradicate hunger by supporting a myriad of hunger relief organizations throughout the U.S. and abroad.
In 2020, with gatherings and in-restaurant dining temporarily suspended, the 36th Seder became virtual — a full take-out Seder meal, complete with all that attendees have come to expect from Spago. The plan is for 2021 to bring the 37th annual Seder back in its full glory as quite the celebration.
The story of this unique seder's start.
Living in Los Angeles, 3,000 miles from her childhood home, as Passover drew near, Barbara Lazaroff turned to [then-husband] Wolfgang Puck suggesting a community Seder. She thought of the many people like her who lived far from their families and the warmth of their family Passover celebrations. A year earlier Wolf had replied that no one would come, but Barbara persisted and Wolfgang Puck, although not Jewish himself, rose to the task quickly becoming a master of Passover cuisine.
These days about 40% of today's Spago Seder guests are not Jewish. Along with their Jewish friends, they love the tradition and camaraderie, the children's choir, the humor, laughter, and warmth of this gourmet Seder. Barbara loves sharing the Passover story and tradition. For many of Spago's Seder guests,who don't spend the second Seder night with family, Spago is their home on Passover. (As it is year-round.)
At the 27th annual gourmet Seder in 2011, attendees included award-winner Lainie Kazan, Grammy Award-winner Melissa Manchester, and Tony/Grammy Award-winner "Jersey Boy" John Lloyd Young. The Westside Children's Choir again captivated and charmed the guests.
The 26th annual gourmet Seder in 2010 was conducted by Rabbi Arnold Rachlis D.D. and Cantor Ruti Braier with over 200 people. It was, as always, quite a celebration. Fragrant dishes included a "killer chicken soup" with fluffy air light matzoh balls, Spago chopped chicken liver, gefilte fish made from fresh pike, whitefish and carp, roasted chicken, and almond crusted salmon (courtesy of the talents of Spago's Jewish chef, Lee Hefter and Japanese chef, Tetsu Yahagi). Being a Spago Beverly Hills event, it was, of course, topped off with a sumptuous array of desserts by Spago's Sherry Yard. (Her macaroons are the best!) Spago sommelier Chris Miller poured exceptional kosher wine this year: Red C Cabernet Sauvignon 2003, Napa Valley, and Chardonnay Lavan 2008, Russian River Valley.
---
For the 2010 Concert/event,  Barbara was KindredSPIRITS' special honoree, receiving the KindredSPIRITS Humanitarian Award. This concert of world music celebrating unity and peace also benefitted Mazon.

That year, Grammy award-winning singer/songwriter, Melissa Manchester joined the 60-Voice Gospel Choir from Faithful Central Bible Church, the Los Angeles Jewish Symphony, under Dr. Noreen Green's direction, and noted artists: Ilan Davidson, tenor; Chayim Frenkel, tenor; and Ilysia Pierce, soprano. This well-received concert was held at Walt Disney Concert Hall, Downtown Los Angeles. Monies rasied from this honor went to Mazon.

---
Aviva Family and Children's Services
Barbara is a Platinum Associate member on the Council of Guardians for the Aviva Family and Children's Services. She was instrumental in the design and fundraising of nearly $1,000,000.00 for the remodel of the Wallis Annenberg Center which fosters, educates and nurtures at-risk female teenagers.
Aviva Family and Children's Services believes every child and every family in our Los Angeles community deserves the chance for a brighter future. Aviva providse compassionate support, therapeutic services and guidance to over 5,200 at-risk children and families annually.
This photo is from an exclusive Platinum Associates luncheon and Aviva Youth Film Screening
hosted by Barbara Lazaroff at Spago Beverly Hills, September 2016.
"It takes a lot to run a facility that gives so much back to girls like me, and every girl there is grateful for all the help Aviva gives. Some of the girls don't realize it at this very moment, but Aviva will be the very best thing that has ever happened to them." -AW, Former Aviva Resident, Class of 2015
Want to help Aviva Family and Children's Services?
To contribute time, funds or in-kind products, please email us.
---
American Friends of Sheba Medical Center

Barbara has been a member of the Board of Directors of The Western Region of American Friends of Sheba Medical Center (formerly called The Friends of Sheba) since 2009 supporting Israel's leading hospital Sheba Medical Center. Sheba Medical Center is also the largest and most comprehensive medical center in the Middle East.

Barbara endows The Lazaroff International Summer Program at The Weinberg Child Development Center at Sheba Medical Center, which provides evaluations and treatment of children with developmental delays or disabilities in Tel Hashomer, Israel.
These photos are from the 2016 VIP luncheon.
These photos are from the 2016 "Women of Achievement" annual luncheon.

---
Zimmer Children's Museum
Barbara is a major supporter of the Zimmer Children's Museum's annual art exhibition Show&tell and its youThink art program for youth ages 9-18.
The youTHink division utilizes the power of art to foster students' critical thinking about contemporary issues, engage diverse learners, promote literacy, and empower students to find and use their voices to take action for positive social change. youTHink conducts arts education programs in school and community settings for 2,400 students annually, most of whom attend low-income, low-performing public schools.
A closing reception for the annual Zimmer Children's Museum fund-raising art exhibit.

The Zimmer Children's Museum as it was has closed. It continues as the Cayton Children's Museum. 
---
Israel Cancer Research Fund
A member of the Board of Directors since 2011, Barbara is a supporter of The Israel Cancer Research Fund in its efforts to advance cancer research in Israel.
Since 1975, ICRF has provided over 1688 grants to outstanding cancer researchers whose laboratories are located in all of the leading scientific research institutions, universities and hospitals in Israel.
Among other breakthroughs, ICRF-funded researchers have developed improved chemotherapies, advanced techniques in bone marrow transplantation, and an enhanced understanding of tumor suppressor genes.

Jewish Life Television
Launched in 2007, Jewish Life Television is a 24-hour TV network delivering Jewish-themed programming.
Always into sharing
Jewish culture and keeping Jewish history alive, Barbara joined the Board of Governors in 2010.
In the U.S., JLTV can be seenin all 50 states reaching over 40 million households. Viewers can also see JLTV in Canada. Website members can access live and on-demand programming; watch its unique local, national and international news stories; and take part in its online social networks.
---
Big Brothers Big Sisters
Greater self-confidence, great trust in parents, greater feelings of social acceptance, and far less risky behavior. That's just some of what the Big Brothers Big Sisters of Greater Los Angeles program, supporters and mentors create for many young lives. They couldn't achieve this without its volunteers — or the donors funding it.
Barbara Lazaroff has been a supporter of the Big Sisters College Scholarship program since 1988.
For all of her philanthropy, including what she does for Big Brothers Big Sisters of Greater Los Angeles, the Big Brothers Big Sisters of Los Angeles Guild presented her with their 2013 Innovator Award, which she holds in a photo below.
You can learn about Big Brothers Big Sisters of Greater Los Angeles at BBBSLA.org.