Presidential experiences


Somewhere along the line, the team of Wolfgang Puck and Barbara Lazaroff caught the eye of the Whitehouse.
In May 1983 President Ronald Reagan held an Economic Summit in Williamsburg, VA — and added a unique element to it. President Reagan's summit also showcased some of the finest American regional food in 5 meals for 1,500 attendees that included the heads of state of 7 countries and their people. The menus were planned by a "kitchen cabinet" — New York Times Food Editor Craig Claiborne, and 7 of America's finest regional chefs. The final dinner, as you might guess, featured Wolfgang Puck specialties. Barbara was there to help facilitate.
The full article, The economic summit: A 'Kitchen Cabinet' of American chefs is on the UPI website.
Barbara has also had the honor of meeting President Jimmy Carter and First Lady Rosalind Carter, President Bill Clinton and First Lady Hillary Clinton, and President Barack Obama, as well as John Kerry and Hillary Clinton. Several of these meetings were at the restaurants she designed; for various reasons it is quite an honor to have your restaurant selected by a President or Presidential hopeful.
---
Meeting President Obama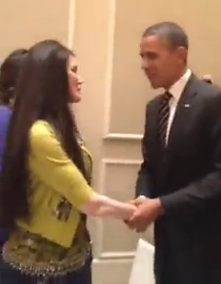 On March 19, 2012, Barbara had the opportunity to meet President Obama. It was not a posed photo op but a friend captured the moment on cell phone video. Here is a still from that video.
In Barbara's words:
Hours with the staff, speaking about various issues concerning the nation…and then a VERY private group speaking with the President for over an hour…we each asked questions…mine concerned education and hunger.
The President is THE REAL DEAL… intelligent, humble, warm, caring…and open to discussion. I was a supporter before, but truly I cannot imagine anyone not understanding the depth of this man once they've actually met him and spoken with him.
No press, (we turned off the video and cameras once the real discussions got underway), candid conversation and important discourse.