Barbara Lazaroff in Books


Barbara Lazaroff is primarily known for conception and execution of singularly unique restaurants.
Her innovative concepts and designs have received critical acclaim.
Her projects and business acumen have been featured in many magazines and books.
Barbara Lazaroff's design work and insights into hospitality have been written about in the following books, amongst others.
---
Chefs, Drugs and Rock & Roll
How Food Lovers, Free Spirits, Misfits and Wanderers Created a New American Profession
by Andrew Friedman
Published by Ecco, February 2018
Hardcover: 480 pages
ISBN-10: 0062225855 or ISBN-13: 978-0062225856
Dimensions: 1.7 x 5.9 x 9.1 inches
(also Kindle and Audiobook)
Chefs, Drugs and Rock & Roll transports readers back in time to witness the remarkable evolution of the American restaurant chef in the 1970s and '80s. Taking a rare, coast-to-coast perspective, Andrew Friedman goes inside Chez Panisse and other Bay Area restaurants to show how the politically charged backdrop of Berkeley helped draw new talent to the profession; into the historically underrated community of Los Angeles chefs, including a young Wolfgang Puck and future stars such as Susan Feniger, Mary Sue Milliken, and Nancy Silverton; and into the clash of cultures…
See this article, When Wolfgang Puck's Spago Was the Epicenter of L.A.'s Social Scene, for great insights into the story and times.
---
Restaurants That Work: Case Studies of the Best in the Industry

by Martin E. Dorf
224 pages, Published/Edition: October 1992. ISBN/Book No.: 0823045404
Barbara discusses kitchen planning, design concept, and more.
About the book:
A complete rundown on how successful restaurateurs, teaming up with architects and designers, ply their craft. Martin E. Dorf presents 18 in-depth case studies of such successful restaurants as Scoozi, Union Square Cafe, and Chinois, along with personal interviews with their owners, chefs, architects, designers, kitchen planners, and consultants. 168 illustrations
---
Restaurant Design 2
by Judi Radice
published 1990
Chinois on Main is Barbara's restaurant design featured in this book.
---
The Restaurant: From Concept to Operation
by John R. Walker
The Restaurant: From Concept to Operation takes the reader from the initial idea to the grand opening. It features comprehensive, applications-based coverage of all aspects of developing, opening, and running a restaurant. This includes topics such as staffing, legal and regulatory concerns, cost control and general financing, marketing and promotion, equipment and design, the menu, sanitation, and concept.
---
Let Us Eat Cake: Adventures in Food and Friendship
by Sharon Boorstin
First published in 2002, next edition 2014
Regan Books, an imprint of Harper Collins Publishers
Every woman has poignant food memories: the times she licked the bowl when her mother baked a cake, or helped her grandmother make blintzes, tortillas, or Southern fried chicken. And how about the times…
---
Super Chef: The Making of the Great Modern Restaurant Empires
by Juliette Rossant
June 27, 2007
Hardcover
Excerpt from page 46:
The second reason that Granita is important is because it symbolizes the importance of Barbara Lazaroff to the Puck-Lazaroff empire. Barbara has her detractors (as does Granita), but it would behoove men and women in the business to appreciate Barbara's impact — the importance of a great partner, of a team — on the building of any business empire:
Like any of the great talent managers of Hollywood, fundamentally it has been Barbara all along who has understood Wolfgang best and who has helped to make him the phenomenon he is today. Whereas the humble village boy might have hesitated and cautiously undersold himself, Barbara constantly oversold him, confident that Wolf would always live up to her billing. And he did.
---

The Complete Walt Disney World 2009
also called Complete Walt Disney World or Complete Guide to Walt Disney World
by Julie Neal
December 31, 2008
The only photo-driven guidebook to the No. 1 vacation destination, The Complete Walt Disney World 2009 is a must-buy for anyone planning a trip to Walt Disney World. Filled with over 400 photographs and packed with more factual information than any other Disney guide, the colorful book includes in-depth information on attractions, activities, restaurants and resorts that you just cannot find anywhere else.
---
RenWomen:
What Modern Renaissance Women Have to Teach Us About Living Rich Fulfilling Lives
Co-authored by twins Dale Griffiths Stamos and W. Scott Griffiths
Published in 2014
RenWomen is an exploration of some remarkable multi-talented, multi-faceted women working at the height of their abilities. Their lives and unique insights can inspire and guide women in how to reach higher and delve deeper in their own lives. Barbara is one of the 16 women profiled in the book, sharing her insights with readers. You'll find her in chapter 12.
One reviewer on Amazon called this an "Important book." All rated it well, saying things like "fountain of information" and "wonderful resource."
Other women profiled: Frances Hesselbein, Lorie Karnath, Eva Haller, Margaret Wertheim, Christine Wertheim, Lydia Kennard, Dale Franzen and her daughter Alexandra Franzen, Marinela Gombosev, Kathy Eldon, Jeanne Meyers, Rita Stern Milch and Karen Pritzker, Hélène Cardona and Lita Singer, Ph.D.  Also included is a chapter on the Icons: famous RenWomen such as Oprah Winfrey, Hillary Clinton, Condoleezza Rice, Maya Angelou, Jane Fonda, and Arianna Huffington.
Pictured here: Barbara Lazaroff with co-author Dale Griffiths Stamos. Barbara with Eva Hallar, also profiled in the book. Both photos were taken as the women socialized at Barbara's.
You can learn more about RenWomen at RenWomen.com.
---
California Interiors
by Jill Cole
Published June 1, 1991
PBC International, Inc.
Hardcover: 223 pages
ISBN-10: 0866361324 & ISBN-13: 978-0866361323
This book features Barbara Lazaroff's Imaginings Interior Design's Eureka Restaurant & Brewery.
---
Havens II Celebrity Lifestyles
by Michael McCreary
General Publishing Group
January 1, 1999
Hardcover: 144 pages
ISBN-10: 1575440466 & ISBN-13: 978-1575440460
---
The Lifestyles of the Rich and Famous Cookbook
Recipes and Entertaining Secrets from the Most Extraordinary People in the World
Chapter: Wolfgang Puck and Barbara Lazaroff
by Robin Leach
1992
Hardcover
Publisher: Penguin Publishing
ASIN: B000P0WJHM
Recipes included are from Spago, Eureka, Chinois on Main, and Granita.
Excerpt:
"We work with the same general concept, but our jobs are very different," said Barbara.  "Wolfgang can change and revise the menu along the way, even after the restaurant opens. My interior has to maintain a contemporary look for at least ten years. I"m at the job site every day when we're building, so every detail is exactly as I want it.. At Granita, I laid all the colored sea stones and shells into the bar top. I work right alongside the craftsmen and artisans. I'm as comfortable at my construction side as Wolf is in his kitchen."
(You can read the page by clicking the page's image. It'll open in a new window. Just close that window when you're done.)
---
How They Met
by Nancy Cobb
Publisher: Turtle Bay Books, a division of Random House.
ASIN: B01F9QU2H0
1992
An illustrated celebration of romance details celebrity instances of love at first sight with anecdotes from such happy couples as Carly Simon and Jim Hart, Chris Evert and Andy Mill, and Mavis and Jay Leno.
Clicking this image brings up the story in new tab.
(426kb)
---
Empowered Spaces
Architects & Designers at Home and at Work
Barbara Lazaroff at Home
by Carol Soucek King, Ph.D.
1993
7 pages
This book by Carol King, editor-in-chief of Designers West magazine, features the home of Barbara Lazaroff and Wolfgang Puck as it was designed by Barbara Lazaroff.
Clicking this image brings up the feature in new tab.
(4.4mb)
---
Retail image & graphic identity
by Joan G Salb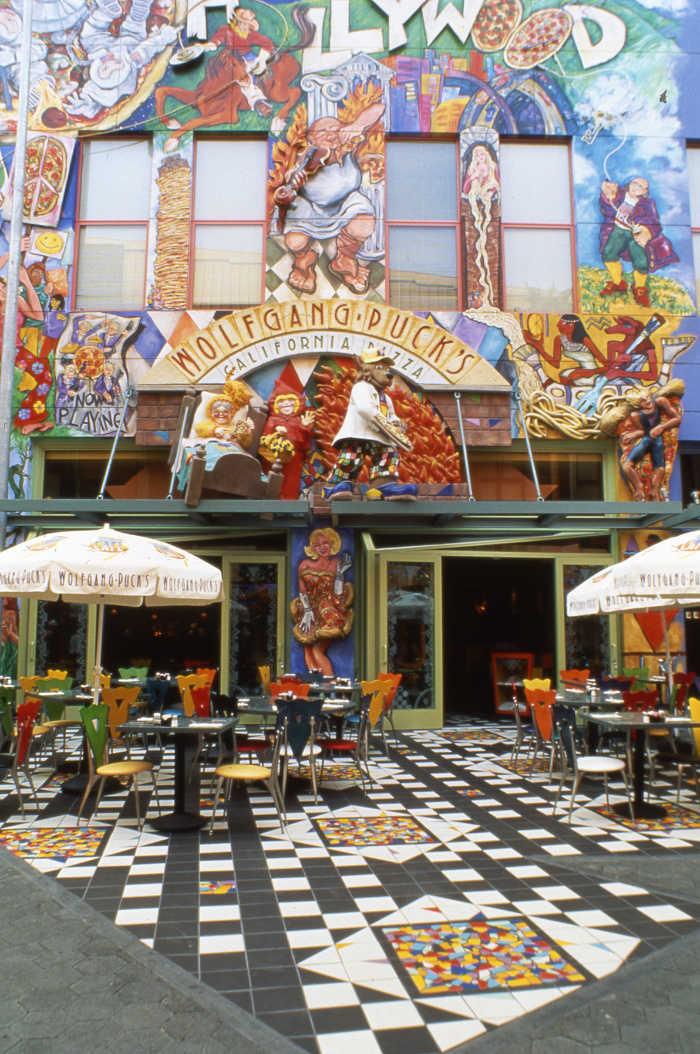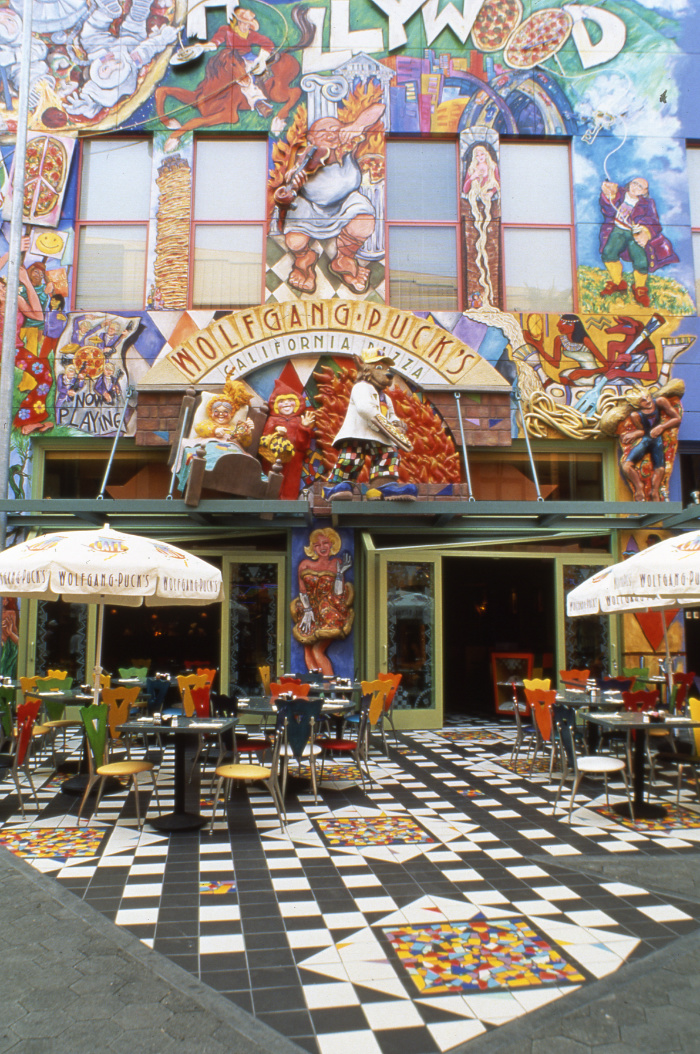 Published 1995
Hardcover: 108 pages
Publisher: Retail Reporting Corp, NY
ISBN: 9780934590624
The front of the Wolfgang Puck Café at Universal CityWalk was featured on the cover of this hardcover book.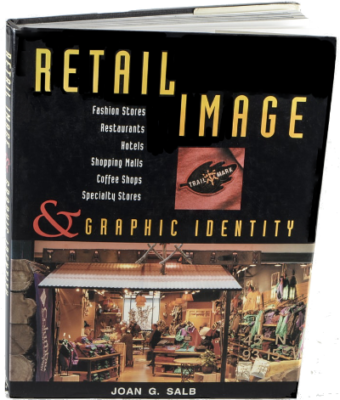 ---
Recipes for Success From Leading Women and Premiere Chefs
by the Patriots' Trail Girl Scout Council, Inc.
Published 1996
Hardcover: 126 pages
Publisher: Patriots' Trail Girl Scout Council; English Language edition (1996)
ISBN-10: 0965470709 and ISBN-13: 978-0965470704
Barbara, a Girl Scout in her NY youth,  not only contributed to this book, created as a fund-raiser for the Girl Scouts, but also hosted an event around it to help the Girl Scouts.,
Per its dedication: celebrates the accomplishments of today's women in very diverse walks of life. The cookbook is meant to salute all of women's contributions to our society, as well as serving as an inspiration to young women just now choosing their personal path in life."
Over 100 women are featured: corporate executives, politicians, entertainers and chefs. Prominent contributors including Oprah Winfrey, Martha Stewart, Dr. Joyce Brothers, Debbi Fields, Hillary Rodham Clinton, Elizabeth Dole, Bonnie Blair and Cheryl Tiegs.