Barbara Lazaroff in the Press — Radio, TV, Online


Barbara Lazaroff's unique restaurant concepts and designs have brought her much acclaim. She has been featured in many magazines and books and interviewed on many TV shows, radio programs, and in online audio and video interviews.
This page shares some of the TV, radio, podcast, and other web interviews in which Barbara Lazaroff has been the subject, or an interview, a show guest, or otherwise participated at the request of the various programs. It's displayed with the newest items first. The entire podcast is 39 minutes. Barbara appears around 32:20 in a discussion of the restaurant business in these times.
Radio & TV
Barbara Lazaroff has appeared on these stations or shows and many more.
CNN
First Camera
E! Entertainment
West 57th
Entertainment Tonight
Good Morning America
Eye on L.A.
The Home Show
Interior Motives
Public Eye with Bryant Gumbel
A & E Biography
Entertainment Studios' Every Woman
Even Barbara's kitchen has had its 15 minutes. Much more, in fact. Her kitchen was the set for Cooking with Wolfgang Puck, featured in Designers' West, for which Barbara also co-wrote the script.
---
All the Kitchen's a Stage

The rise of the open kitchen has changed how diners experience their meals, and the way chefs approach their work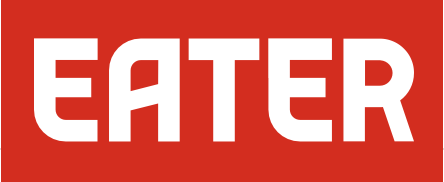 June 5, 2023
by Jaya Saxena
Excerpts:
The opening of Spago in 1982 changed all that: Its open kitchen concept, which displayed chef Wolfgang Puck and his team grilling fresh tuna or sauteing crimini mushrooms, was half of the reason you went. Since then, the trend has infiltrated the restaurant industry at all levels…
"People credit me with inventing the open kitchen, but what about the American diner?" Barbara Lazaroff, Wolfgang Puck's ex-wife and the co-founder of the Wolfgang Puck brand, told the LA Times in 2001. As it did in many a diner, the open kitchen line at Spago spanned a back wall, with the full dining room in front of it — anyone could get a view of the chefs in action, along with any celebrities seated at the VIP tables in the middle. "The difference," Lazaroff continued, "is we were creating food of a certain level, right where everyone could see it."
It's true that open kitchens were hardly a new concept. Sushi had long been served at countertops and street stalls in full view of customers, even before the term "omakase" gained popularity. Diners, which originated as lunch carts in the 1870s, initially had grills in the open, and many still do. And at fast-food restaurants it's long been standard to watch workers assemble a meal, or at least have a view into the kitchen from the register, one often provided in an attempt to assure customers that the ingredients are fresh and hygienic standards are being met.
But while at an omakase counter the experience is centered on the sushi master, and at a diner an open griddle is usually the result of a space constraint, the open kitchen in modern, upscale restaurants has more to do with drama and vibes than anything practical or traditional.
and
Spago was the first restaurant Lazaroff designed…
and
The popularity of the open kitchen quickly spread, spurring what some referred to as the Spagoization of the restaurant scene.
and closing paragraph
Then again, being a chef and being a public figure now go hand in hand. Call it the Spagoization of the industry.
Read the article here at eater.com/23736307/open-kitchens-chefs-diners-wolfgang-puck-spago
See a pdf of the article in a new tab (1.4mb).
---
Spago Seder Delights Nearly 300 Guests in Beverly Hills

April 15, 2023
by Ryan Torok
Excerpts:
The elegant evening included a service led by University Synagogue's Rabbi Arnold Rachlis and Cantor Ruti Braier.
The chefs prepared an array of dishes, including braised beef short ribs, Alaskan salmon, and matzah ball soup. But among guests, the biggest hit might've been the garlic-and-thyme matzah, which was baked in the restaurant's pizza ovens.
"We take great pride in making sure we do it right every year," Spago's chef de Cuisine Areg Avanassian said of the matzah. The evening lasted several hours. Around 5:45 p.m., guests filed in. Barbara Lazaroff, co-founder and owner of Spago, went table to table making small talk with guests, which included artists, designers, publicists, tech leaders and even singer-songwriter Carol Connors, co-writer of the theme from the original "Rocky" movie.
and
"From the bottom of my heart," the restauranter said, "it means so much to me that you chose to celebrate your holiday here."
Read the article here at BeverlyHillsCourier.com/2023/04/15/spago-seder-delights-nearly-300-guests-in-beverly-hills.
See a pdf of the article in a new tab (1.1mb).
---
Will Knox, aka Mr Restaurant, interviews Barbara
Thursday, March 30, 2023

Barbara joined Will Knox on his Mr. Restaurant radio show and podcast.
About the show:
Renowned restaurant real estate specialist, Will Knox,  serves up a fresh look at the restaurant business. On the menu: Celebrity chefs. Start-ups. Operators. Deal makers. Designers. And those are just some of the appetizers. Mr. Restaurant is a segment of The Jeremiah Show.
Will and Barbara go way back… he's the real estate broker who found the original Spago location. They certainly have plenty to talk about. So as Will put it, Barbara is the main course. They talked about life and business and whatever else they speak of.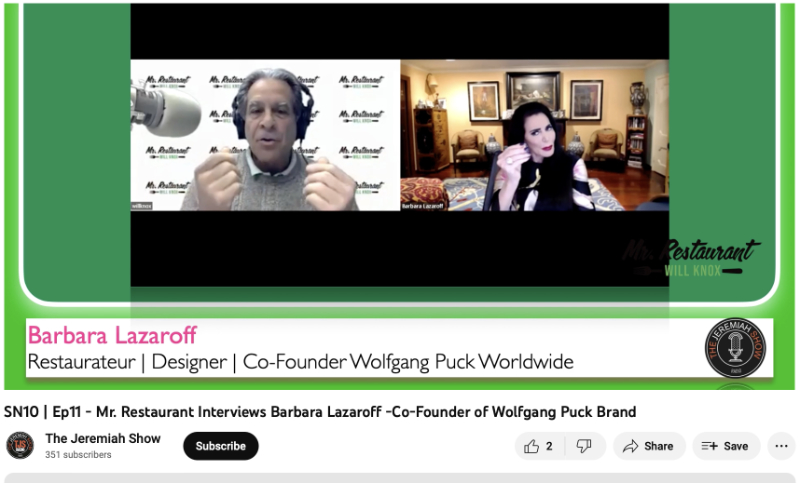 The program aired on several on-air radio stations, including Somerset, England.
You can hear it here at Apple podcasts or watch the recording of the interview on YouTube at youtube.com/watch?v=eSumJ14mL84.
---
Where to Get the Best Chinese Food in Santa Monica

by Liz Flynn
Money Inc
Friday, April 22, 2022
Excerpts:
"Santa Monica is a coastal city in downtown Los Angeles."…"There are eight different cuisines depending on the cooking style and regional flavor. Santa Monica has nothing short of different Chinese restaurants where locals and visitors flock to eat delicious meals. The following are the best places to get Chinese food in Santa Monica."
6. Chinois on Main-2709 Main St, Santa Monica
According to Wolfgangpuck, the owners of Chinois on Main opened the restaurant in 1983. The restaurant has managed to serve the best Chinese food in Santa Monica through the years. Their meals combine traditional Chinese cuisine and contemporary French techniques with a blend of California ingredients. The combination gives the best Asian fusion cuisine. Chinois is a Chinese landmark in Santa Monica. The interior has an open kitchen and full bar with a traditional design by Barbara Lazaroff. Bella Lantsman manages the restaurant. They offer take-out services and are open from 5:30 pm to 8:30 pm.
Read the article here at MoneyInc.com
See a pdf of the article in a new tab (1.9mb).
---
KABC's Mottek On Money radio broadcast
Friday, April 8, 2022
6:45 p.m.
Frank Mottek is known as the Voice of Business News on Southern California.
Barbara was live on the air with Frank Mottek as a guest on his radio broadcast. Listeners were able to listen live at 790 KABC or stream it live.
You can listen to Barbara's segment of the Mottek On Money 04-08-22 podcast on Apple Podcasts and several podcast apps. The program is 39 minutes. Barbara is on at 32:20 in a discussion of the restaurant industry today.
---
Remembering the Restaurant Design of the '80s and '90s in Los Angeles
Eater Los Angeles
August 18, 2021
by Matthew Kang
Excerpt:
Another example of a wild '90s restaurant interior that persists is Wolfgang Puck's Chinois on Main, whose colorful interior by Barbara Lazaroff seems to be untouched by time.
Read the article here at EaterLA
See a pdf of the article open in a new tab here
---
Wolfgang: Lynn's Grade: A-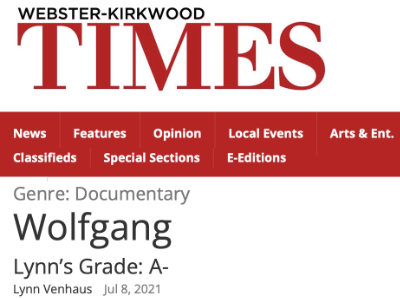 by Lynn Venhaus
July 8, 2021
Opening:
Lynn's Take:
Wolfgang Puck changed the way we eat in America. This fascinating documentary explores his vast influence as it chronicles his journey from Austria to Los Angeles.
Other excerpts:
With his son Byron talking about how he was an absent father, Puck also admits his time in the limelight and overseeing the growth of his business empire was not easy on his wife, Barbara Lazaroff, and their two sons.
He was married to Lazaroff for 19 years, and she is prominently featured. A designer with a theater background, she was integral to his ascension as a world-famous chef in the 1980s and 1990s. As his business partner and catalyst, they were quite a formidable team. She provides perspective on the landmark restaurant Spago, which opened on the Sunset Strip in 1982, an immediate sensation for fresh and new California cuisine — and the place to be seen.
Read the article in a new tab at TimesNewspapers.com at Webster-Kirkwood Times.
---
"Candor And Vulnerability": Celebrity Chef Wolfgang Puck Opens Up About Painful Past, Incredible Career In 'Wolfgang' — Tribeca Studio
by Matthew Carey
June 13, 2021
Excerpt:
The film gives due credit to Barbara Lazaroff, Wolfgang's business partner and ex-wife, who helped him build his restaurant and business empire during their 20 years of marriage. She designed the original Spago in West Hollywood, which featured an innovative "open kitchen" plan where diners could get a sense of the haute cuisine being made.
"The idea—and this is what Barbara describes in the movie—is the kitchen becomes a stage and the chef is now the star," Gelb explained. "She took Wolf's vision and put it on this big scale, which I think is really awesome."
Puck says he's pleased with the way the film turned out.
Read the article in a new tab at deadline.com.
See a PDF of the article in a new tab.
---
'Wolfgang' Film Review: Puck's Culinary Triumphs and Personal Losses Served Up in Tasty Doc
by Dan Callahan
June 12, 2021
Excerpt:
Patrick Terrail, the manager of Ma Maison, wasn't paying Puck all that much and didn't give him credit for revitalizing the restaurant, and in an interview in "Wolfgang," he still is loath to give Puck much credit. Puck finally had to see Terrail as another stepfather figure to rebel against, but only after Puck's then-wife Barbara Lazaroff pushed him to stand up for himself and to leave Ma Maison to create his own restaurant.
Lazaroff and Puck were a real team when they created Spago, and it was her theater background that made her think to make the space itself into a kind of playing area where the starry customers could see their food being made.
"Wolfgang" premieres on Disney+ June 25.
Read the article in a new tab at The Wrap.
See a PDF of the article in a new tab.
---
Plant-Based Eatery Flower Burger to Open First North American Location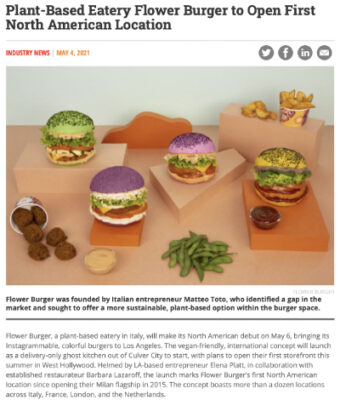 QSR Magazine, Industry News
May 4, 2021
Lead paragraph:
Flower Burger, a plant-based eatery in Italy, will make its North American debut on May 6, bringing its Instagrammable, colorful burgers to Los Angeles. The vegan-friendly, international concept will launch as a delivery-only ghost kitchen out of Culver City to start, with plans to open their first storefront this summer in West Hollywood. Helmed by LA-based entrepreneur Elena Platt, in collaboration with established restaurateur Barbara Lazaroff, the launch marks Flower Burger's first North American location…
Read the article at QSR magazine.
Articles on this also appear…
here at Vegnews mentioning "The brand's new California location is helmed by restaurateur Barbara Lazaroff and LA-based entrepreneur Elena Platt…"
and
at Patch.com or at MSN.com saying "to open this summer in West Hollywood, according to LA-based owner and entrepreneur Elena Platt, who is working with consulting partner Barbara Lazaroff, co-founder of the Wolfgang Puck Food Co.
---
The Untold Truth Of Wolfgang Puck's Ex-Wife, Barbara Lazaroff
by Meg Walters
updated February 2, 2021
Excerpts:
Barbara Lazaroff, with whom Puck has two children (Cameron and Byron Jason), is a force of nature… A restaurant legend in her own right, Lazaroff is still listed as the co-founder and partner on the Wolfgang Puck brand website. But for her, family comes first. Says Lazaroff, "Although my professional life is very rewarding, I still feel my most important creations, my greatest successes and blessings are my sons, Cameron and Byron…."
and
While the marriage may not have lasted, the legacy of the Wolfgang Puck brand continues, and we have ex-wife Barbara Lazaroff to thank for much of this experience.
And then in The Untold Truth Of Wolfgang Puck
"The kitchen was designed by Barbara Lazaroff." Plus more.
Read the article in a new tab at mashed.com.
or
See a jpg of the article in a new tab here (warning, 7.5mb).
---
Catherine Gray Launches 'She Angels Series' Featuring Women Entrepreneurs
By LATF Staff Member
January 15, 2021
Lead:
As women across America focus on their 2021 goals, the new She Angels Series premiers Saturday, Jan. 16 on YouTube.
Excerpt:
The groundbreaking series hosted by actress Susan Anton was filmed in Southern California and features a creative, positive and resourceful panel— Celebrity Chef Cat Cora; Emmy Award winning producer Nicole Ehrlich; Co-founder of Wolfgang Puck Brand, Barbara Lazaroff; renowned CEO of Fruiterie Milano, Celia Zaurrini Kahn; Co-curator of the Hip Hop Museum in the Bronx, NY, SenYon Kelly; fashion icon and Co-founder of True Religion Jeans, Kym Gold; Co-founder of the She Angels Foundation, Catherine Curry Williiams, and trailblazing empowerment coach Andrea Quinn.
This article is online a latfusa.com.
Everything She Angel video is here on YouTube.
---
Margaret's Merriest List: Gift Ideas for Your Favorite Foodie Friends
By Margaret McSweeney
Monday, December 12, 2020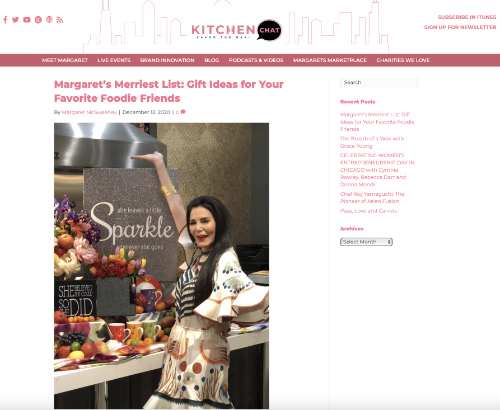 Excerpts:
Happy Holidays! 'Tis the season to celebrate the special people in your life and what better way than with Margaret's Merriest List. For my very first ever gift idea list, I would like to highlight some Kitchen Chat guests with their recommendations along with a charity that they would like to feature.
4) Barbara Lazaroff's Flame of Life shines so brightly. She is a philanthropist, a successful restaurateur, an amazing designer, a wonderful mother and very dear friend. Her encouragement during my Kitchen Chat culinary journey helps me live my joy. Here is our latest and special Kitchen Chat with Barbara Lazaroff and her son Byron Lazaroff-Puck at Spago recorded before the pandemic. Here are some wonderful gift ideas: Barbara's exquisite Flame of Life Dinnerware – Barbara has created this limited edition Flame of Life Dinnerware to enliven your meals and inspire your soul. And a portion of each sale supports one of the several non-profits Barbara has supported since she found herself so fortunate in her success. Another fun idea is to call Chinois on Main (310) 392-9025 and/or Spago (310) 385-0880and purchase a To Go order for friends that live in Los Angeles. I'm going to order one for my youngest daughter. A special charity that Barbara would like to highlight is No Kid Hungry. Please consider a donation to feed a hungry child.
You can read the full article on KitchenChat.info.
---
Viking.TV — Anne Diamond interviews
Restaurateur and Interior Designer Barbara Lazaroff, ASID
Hosted by Anne Diamond and her guest Barbara Lazaroff
Thursday, November 26, 2020
1 hour, 12 minutes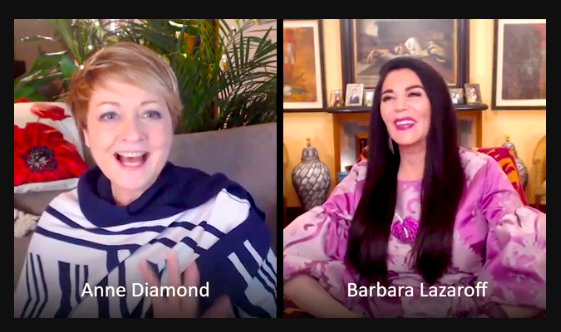 The Viking description:
Join British journalist Anne Diamond as she shines a light on the incredible life of restaurateur, interior designer and philanthropist Barbara Lazaroff, ASID. From setting up the original—and now legendary—Spago restaurant in Los Angeles to growing a global brand with her ex-husband, the celebrity chef Wolfgang Puck, Barbara shares what she has learned over her 30-year career. Not only is Barbara a respected leader in the restaurant industry, but she also engages in extensive charity work.
Tune in as Barbara answers viewers' questions during the livestream.
You can watch this interview is here on Viking.TV.

---
The History and Future of Spago: Barbara Lazaroff and Byron Lazaroff-Puck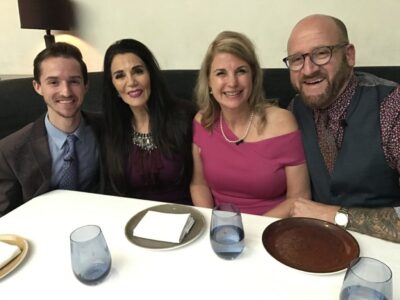 by Margaret McSweeney
August 30, 2020
Excerpts:
Spago, Beverly Hills is the iconic flagship of the Wolfgang Puck Fine Dining Group. Celebrations at Spago are legendary. Did you know that the Oscars parties at Spago predate the Vanity Fair parties? Just days before Covid hit in March, Chef Jaime Laurita and I went to Spago for a very special Kitchen Chat with Barbara Lazaroff, co-founder of Wolfgang Puck Brand and her youngest son, Byron Lazaroff-Puck.
"It's unbelievable being able to grow up in this restaurant and witness my mom. She has taught me so much. It has been an incredible blessing." Byron Lazaroff-Puck
Full article with interview here (in a new tab).
And here's the video interview:


---
Talent Finders podcast Barbara Lazaroff
August 3, 2020
1 hour 51 minutes
---
Spago, Angels In The Sky (AITS) & Passover
by Nurit Greenger
April 11, 2020
Excerpts:
Spago has been closed due to the Coronavirus national lockdown. This year 2020, the legendary restaurant, that for the past 35 years, has held a Passover Seder as only Spago can prepare had to reinvent itself in order to continue serving some of Hollywood's most known VIPs' and the from year to year Seder guests. More importantly, the aim was to continue raising funds for the Mazon Charity to which the Seder's proceeds are designated.
So how did Spago celebrate its popular charity Seder in the coronavirus era?
and
Not to miss on this Seder many years' tradition, Barbara Lazaroff, Spago's founding partner, personally called Mike Flint to let him know that Seder's take-out delicious Spago food is available, which arrived with a bottle of wine and was fully enjoyed by Mike, wife Cheri and brother Guy.
Full article here (in a new tab).
---
Spago Seder dinner to go orders
Interview with Barbara Lazaroff on FOX Los Angeles TV
April 8, 2020
Blurb:
The COVID-19 pandemic isn't topping the good works of Spago Beverly Hills. At Passover. Their annual dinners to benefit the charity Mazon with Seder dinner to-go orders.
Fox 11, Los Angeles interview Barbara Lazaroff from her home to talk about how Spago continued to serve Passover Seder meals/kits during the COVID-19 issues — and still support the Seder beneficiary, MAZON.
You can see the segment at foxla.com/video/672100.
---
Networking Doesn't Have to Be Self-Serving
Harvard Business Review
March 6, 2020
Opening statement:
Successful leaders who shift their attention to tackling big, societal problems can be overwhelmed by how little control they actually have. But, by using network-building and collaboration skills, they can navigate a path to successful innovation and transformational change. Here are the stories of three such efforts and the six essential lessons for attracting support for change they illustrate.
The excerpt:
Knock on many doors. To help reduce deaths caused by drunk drivers, Jay Winsten, a public health scientist, wanted to involve the biggest players reaching the largest audiences. He knew none of them. He used classic networking principles: find people who know people; every contact leads to another; and don't ask too much from any single contact. Winsten went outside his home base to knock on doors in New York, Los Angeles, and wherever media influence was found. He built a wide circle of support from Hollywood moguls, television networks, advertising agencies, the press, and politicians.
He improvised, seizing opportunities. Winsten told his story to a top advertising executive who happened to be in the next seat on a flight to New York; she offered to provide her agency's services pro bono, which resulted in the Designated Driver Campaign's widely praised poster and slogan. He dined at celebrity chef Wolfgang Puck's famed Spago restaurant in Hollywood and approached Puck and his then-wife, co-owner Barbara Lazaroff. Spago ended up sponsoring a Hollywood reception for the embryonic Designated Driver Campaign, and Lazaroff became an adviser.
You can read the full article here at HBR.com.
---
This Legendary Designer is an Iconic Figure of the Woman's Modern Renaissance
by Steve D. Sims
May 29, 2019
Article lead:
Everyone knows about Wolfgang Puck's luxurious global Spago restaurants, but some don't know that the talented designer behind them is none other than the chef's ex-partner, Barbara Lazaroff, also known affectionately as the Queen of Beverly Hills. And she's done more for the restaurant industry than you may think. Barbara Ellen Lazaroff is a designer and restaurateur whose best design work is part of Wolfgang Puck's chain of worldwide flagship restaurants, and she also transformed the traditional style of the American restaurant and kitchen.
Read the full article at Medium.com.
Or read a pdf of it here in a new tab.
---
Interview with Barbara Lazaroff on…
The Art of Making Things Happen (Bluefishing)
a podcast by Steve Sims:
May 20, 2019
On today's episode Steve chats with the Queen of Beverly Hills, Barbara Lazaroff. Barbara is a world-renowned designer and restaurateur. She is the woman behind the famous Spago and Wolfgang Puck Restaurants, using her brilliant branding strategies to grow the company all over the world. A philanthropist as well, Lazaroff has dedicated her life to empowering women and using her platform to help those in need. …
49 minutes.
Play at Steve's show site or stream it from here.
---
Fandom: Michelin-Starred Restaurant Wiki – Spago Beverly Hills
January 7, 2019
Except:
Wolfgang Puck and Barbara Lazaroff's legendary, flagship restaurant features a completely new menu and design. The master chef, along with Executive Chef and Managing Partner Lee Hefter, has re-invented the entire menu with his signature farm-to-table philosophy, heightening the iconic California cuisine Puck catapulted to stardom.
michelin.fandom.com/wiki/Spago_Beverly_Hills
---
Hometowns & Heroes
Rebecca Blackwell & Mark Stewart
Rebecca interviews Barbara Lazaroff
Published on Nov 30, 2018
Summary:
You will never find a person who devotes more of her personal time to helping the community and people in the world. Barbara Lazaroff through many years has created huge events that raise money for many charities. We have posted a list of the charities that she has donated to by giving her time, talent, and money at the end of this video. Take a look at some of the background story of Spago and the rise of the brand Wolfgang Puck in this interview with Barbara.
---
"Anna & The Start Up" visits Barbara Lazaroff
October 4, 2018
"Anna & The Start Up" showcases conversations with inspiring women entrepreneurs to hear their stories.
This 14:23 piece entitled "The woman who created the Wolfgang Puck Empire – Barbara Lazaroff" will let you get to know Barbara well.
---
Bionic Buzz
Barbara Lazaroff Interview at the 65th Annual Boomtown Gala
May 23, 2018
1:24
Bionic Buzz® proudly got to cover he 65th Annual Boomtown Gala, presented by SHARE, Inc., at the Beverly Hilton Hotel in Beverly Hills. SHARE, Inc. is Hollywood's oldest and most noteworthy charity, founded in 1953 by seven women – some of whom were the wives of the infamous Rat Pack! Their mission is to improve the lives of children with special needs and members of the community who are less fortunate. To date, SHARE has raised more than $65 million benefiting those in need across Los Angeles!
---
Meet the RenWomen: Barbara Lazaroff
Thursday, November 30, 2017
Dale Griffiths Stamos hosts the RenWomen podcast creating interesting and helpful interviews with modern Renaissance women from her book RenWomen, and other amazing RenWomen she's been meeting. Wonder if you're a RenWoman or what you can learn from them? Have a listen.
Barbara Lazaroff is featured in the book — and in this episode, Barbara discusses her life as a highly regarded restaurateur, interior designer, producer, published author, celebrated philanthropist, humanitarian, entrepreneur, and mother of two sons.
Listen to the Barbara Lazaroff RenWomen podcast from the podcast site
or
hear the Barbara Lazaroff RenWomen podcast at iTunes.
If you miss this or any other episode of the RenWomen podcast at the given time, you can hear them on demand as well.
---
Live Love Thrive Talk Show
Wednesday, August 23, 2017
Barbara was a guest on the Live Love Thrive Talk Show with hostess, Catherine Gray.
As an active participant in many women's education and empowerment organizations Barbara also supported two 360 Karma events.
Online, on demand, embedded here. We start you off at Barbara's segment, at 24:22, but we encourage you to rewind and see the entire show if you'd like.
---
Oscars 2016: Barbara Lazaroff Co-Founder Wolfgang Puck Brand
A segment of Flavor Living Radio
February 22, 2016
Welcome to Flavor Living Radio.  One of the hottest tickets in Hollywood California outside of going to the 88th Oscar's Awards, would be the Oscar's Governors Ball where great foods and dessert reach culinary excellence, who can host such an event.  On today's show we have the Co-Founder of the Wolfgang Puck Brand. Barbara Lazaroff A.S.I.D Interior Designer..Tune-in and hear more…Her Qoute "You dine with your eyes first." 
You can listen here (in a new tab)

---
Gastronomique En Vogue
The lovely @BarbaraLazaroff hosts a luncheon at Spago to support the Aviva Center.
Published on Oct 22, 2015
---
Mother Love LATalkRadio
March 25, 2015
Mother Love Talk speaks with Barbara Lazaroff, "co-owner of the world famous Spago, about the 31st Annual Passover Seder at Spago Beverly Hills about this and so much more."

---
Fearless Fabulous You with Melanie Young, a Live Radio Show
December 15, 2014
Melanie's website introducing Barbara's feature.
---
Scenester TV
July 8, 2014
Barbara Lazaroff of Spago, Wolfgang Puck Worldwide, Chinois, Cut & More Interviews at Julien's Auctions in Beverly Hills on Art, Charity and Life with Host Erica Moore.
---
California Spirit — Beverly Hills Courier
July 25, 2013
Excerpt:
Co-host Barbara Lazaroff (right) chats with Chef Gino Angelini of Angelini Osteria and RivaBella prior to Sunday's  "California Spirit XXIX" food and wine festival at Pacific Design Center from 4 p.m. Chefs from 15 of the area's top fine dining establishments will participate in the extravaganza which benefits the American Cancer Society.
Photo and full caption here.
---
Frank & Tai Talk on LA Talk Radio
Barbara Lazaroff was a guest of Frank Sheftel and Tai Babilonia on their radio show, Frank & Tai Talk as they spoke of restaurants, food, and the upcoming 29th Annual California Spirit event for which Frank will be making collectible Cal Spirit 100th anniversary ACS chocolate bars.
Frank made his famous Gourmet Chocolate Pizza from him Candy Factory for Barbara and Barbara brought Spago;s smoked salmon pizzas as well as sweets from Spago.
Sunday July 14, 2013
4:00 − 5:00 p.m.
For many years it was available to listen to at LATalkRadio.com/Sheftel.php. However, as the program is no longer hosted there, we are now unable to locate it for playback.
---
Beverly Hills Courier
Cal Spirit XXIX' Gourmet Food/Wine Fest Set For July 28, To Benefit American Cancer Society
July 11, 2013
Excerpt:
It's been called the "most delicious Sunday of the year."
It is "California Spirit XXIX," a gourmet food and wine festival  saluting the American Cancer Society which currently is celebrating its centennial year.
Hosted by Barbara Lazaroff and Sherry Lansing, the event will be at the Pacific Design Center on July 28 from 4 p.m.
Full article here.
---
Business Rockstars
On June 19, Barbara Lazaroff was in the CBS studio and on the radio live as a Business Rockstar. For half an hour, Barbara was on the air sharing Business insights with with Business Rockstars Co-Founder and Host Ken Rutkowski.

As described at BusinessRockstars.com:
"Barbara Lazaroff, Co-Founder, Owner, and Designer of Spago and other Wolfgang Puck Restaurants, discusses the glass ceiling women have traditionally faced in business and why the problem will fade for future generations. She also discusses how you must present yourself professionally and why you must never under dress."
She and Ken talk about more, too, of course. For example, they discuss how young men and women can prepare for the workforce. Plus, Barbara shares a few secrets of success in the restaurant business — which is easily transferrable to other businesses as well.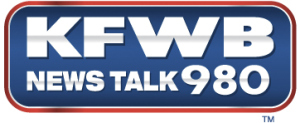 Wednesday, June 19, 2013
Business Rockstars
KFWB News Talk 980, a CBS station
For several years, this segment was hosted at Businessrockstars.com. Unfortunately, they have moved it without providing a link to the new location.
---
Big Brothers Big Sisters "Accessories for Success" Spring Luncheon Event – the arrivals
April 15, 2013
Barbara was honored at this event.
---
Hooray For Hollywood High, the red carpet
January 10, 2013
At the El Capitan Theater, honoring Carol Burnett. Many attended. Here are two interviews that Barbara did. We particularly love the second one – with Mikayla and Shayna Chapman. Be sure to listen in.
"Lavender is to feminists what purple is too womanists." ~from the book, The Color Purple, cited by Barbara as she discussed her favorite color.
---
Splash Magazine interview
Barbara Lazaroff founding partner of SPAGO interview at 17th Annual California Spirit Gourmet Gala held at Paramount Studios.
---
Dr. Sanjeeta Pati and Barbara Lazaroff!
An episode of …
LetXs Talk About It — timely talk with "The Celebrity Doc" on matters that concern contemporary urban dwellers.
May 3, 2011
The second segment of the show is a pre-Mother's Day tribute as entrepreneur and philanthropist, Barbara Lazaroff, co-owner of the Wolfgang Puck Enterprises talks about motherhood and her new book Wishes for a Mother's Heart!
You can listen here (in this new tab).
---
Radio Kol America
April 27, 2011
9:00 – 11 p.m.
Guests: Philanthropist/Restaurateur extraordinaire Barbara Lazaroff (Spago, Chef Wolfgang Puck); and Academy Award-winning actor Louis Gossett Jr will be on guests.
Unfortunately, we do not have a link or a copy of this recording at this time.
---
Mr. Malibu
August 25, 2011
SerraProject.org event.
Barbara Lazaroff receives Visionary Award and Holland Taylor wins Celebrity Trailblazer Award at the Bevery Hills Hotel Crystal Ball Room event to support people with H.I.V. who are in need of all kinds of support.

---
Decades of Helping Others
Sophie Gayot interviews Barbara Lazaroff

September 29, 2010
The incomparable food critic, Sophie Gayot, never missed one of Barbara's American Wine & Food Festivals. In 2010 at the 28th Annual American Wine & Food Festival, Sophie spent some time with Barbara in front of a camera. That detailed video about all that Barbara did for people is missing on Gayot.com now but we have this one.


---
Barbara Lazaroff on the American Wine and Food Festival/Meals on Wheels
An episode of …
LetXs Talk About It — timely talk with "The Celebrity Doc" on matters that concern contemporary urban dwellers.
September 21, 2010
This is the 28th year of this exciting event which has raised close to 20 million dollars for the homebound in our community. Barbara is the first segment here.
You can listen here (in this new tab)
---
90210 Day — The Beverly Hills Celebration
September 3, 2010
"Barbara can you look this way please?"
40 seconds
This video account has been removed.
---
Jesse Kalisher Gallery
Praise for photographer Jesse Kalisher
July 30, 2010
---
Power Women Success Tips – Spago's Beverly Hills
Merrie Lynn Ross on MerrieWay Day – At Spago – the dining haven of the rich and famous. Merrie Lynn and Barbara Lazaroff bring the meaning of happiness to life. Great friends share the truth behind power women.
May 13, 2010
5:44

---
Lemons to Lemonade…In Memory of? Let's Talk About It!
An episode of …
LetXs Talk About It — timely talk with "The Celebrity Doc" on matters that concern contemporary urban dwellers.
August 17, 2010
Barbara Lazaroff is the first guest, starting after 4 minutes, stepping in to speak about a friend's organization and experience when the friend didn't make it to the show, in addition to doing her own guest segment at about 1:09.
You can listen here (in this new tab).
---
TVlaCosta
October 8, 2009
A 10 minute sit-down interview at Spago, talking about AWFF and other philanthropy Barbara does.
---
KNBSTV
Carol Connors' Easter/Passover BBBB In Your Bonnet Luncheon 2009
April 12, 2009
Carol Connors played hostess at "A Cow Jumped Over The Moon" on Rodeo Drive for this luncheon party. Glamorous ladies dress up and strut their stuff to vie for the prize. Goodie bags. Present were: Deanna Lund, Frank Tysen, Madeline Gussman, Barbara Lazaroff, March Schwartz, Linda Schwartz, Beverly Sassoon, Merrie Lynn Ross, Caleb S. Grodsky, Elena Krausz Jazmine Valte, Florence LaRue, Edward Litwak, Nathan Kays, Poppy Paulos, Liami Lawrence, Fatim Hana, Jazmine Valte. Happy Easter and Passover from KNBSTV!
---
Women's Network – Meals on Wheels
September 24, 2008
Ahead of the 2008 events, Barbara talks about the 25th Annual American Wine and Food Festival, the Friday night dinner that takes place at Red 7, and the Chef's Grand Tasting held at Spago, as she's interviewed by Elke Schliwa of the Women's Network TV Show about the various components that comprise her fund-raising for Meals on Wheels.
---
Art and Living Speaks with Barbara at the 25th American Wine and Food Festival
Oct 8, 2007
In this 4-minute segment, Victoria of Art and Living visits with Barbara Lazaroff during the AWFF to talk about it. She then speaks with great participants.
---
Women On Top TV Program
Fir Valley Productions 
May 2007
Barbara was guest on Women on Top, a program by Fir Valley Productions out of Canada. We'd love to share the show with you but unfortunately the clip of this show were removed during their site revamp..
---
Barbara Lazaroff: Spago Partnerships and Customers
December 7, 2007
Super Chef editor Juliette Rossant interviews Barbara Lazaroff, business partner and ex-wife of Wolfgang Puck about Spago partnerships and customers during the opening of Spago at the Ritz-Carlton hotel in Bachelor's Gulch, just outside Vail, Colorado.
---
Mike Farah – at the American Food and Wine Festival
September 29, 1997
Mike Farah interviews Celebrities at the American Food and Wine Festival with the Wolfgang Puck Foundation benefiting Meals on Wheels at Universal Studios Backlot in Los Angeles, California – Part 1 of 3
17 minutes
Mike Farah interviews Barbara Lazaroff and then celebrities at the American Food and Wine Festival hosted by the Wolfgang Puck Charitable Foundation at the Universal Studios Backlot in Los Angeles, California. – Part 3 of 3
30 minutes
---
Ruth Ziony interviews Barbara Lazaroff
l983/1984