Past Events 2013
Christmas Eve at Spago Beverly Hills
Another great meal out at Spago Beverly Hills!
Tuesday, December 24, 2013
Spago Beverly Hills
176 North Canon Drive
Beverly Hills, CA 90210
Lunch: ala carte lunch served between noon and 2:30 p.m.
Dinner: begins at 5:30 p.m. and is served until 9:30 p.m.
Dinner is a three-course menu, $145 per person, (excluding tax, beverage, gratuity).
Spago is closed Christmas Day.

---
New Years Eve at Spago Beverly Hills
Spago Beverly Hills closed for lunch — and then the New Years Eve dining came alive. There were three drink and dining options.
Tuesday, December 31, 2013
Spago Beverly Hills
176 North Canon Drive
Beverly Hills, CA 90210

First seating ala carte was from 5:30 p.m. – 7 p.m.
Second seating began at 9 p.m. This included a three-course menu, a glass of Champagne, DJ and party favors. $275 per person, does not include tax, beverage or gratuity.
The Bar served an ala carte menu from 5:30 p.m. until 10 p.m.

---
Citymeals Lunch 2013
27th Annual Power Lunch for Women
The Power Lunch for Women is a popular event; a spoof on the concept of the power breakfast conceived by Citymeals Co-Founder Gael Greene and then board member Joan Weill. It has grown into a networking imperative for the city's most influential ladies and the handful of generous men who pay $10,000 for the privilege of joining them.
Award-winning journalist and host of "Katie" Katie Couric, emceed to help honor dedicated Citymeals supporter Betsy Bernardaud, Citymeals founding board member Donald Tober, and artist, humanitarian and founder of the Cicely Tyson Foundation Cicely Tyson. Guests will enjoy a special performance by Cyndi Lauper, winner of an Emmy, Grammy and Tony Award. Barbara was there, of course, in her ongoing support of Citymeals On Wheels.
Tuesday, November 22, 2013
12:00 – 3:00 p.m.
The Plaza Hotel
New York City

For more information, please visit this page at citymeals.org.
All questions and invite inquiries should be directed to Jean Son at jean -at-citymeals.org or 212-687-1290.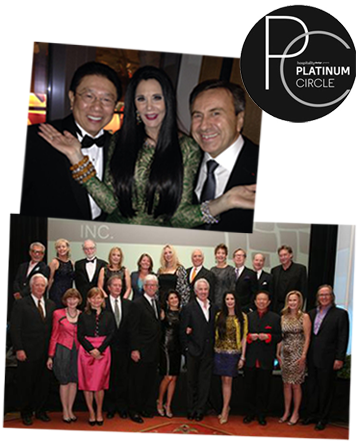 ---
Hospitality Design Platinum Circle Awards
25th Anniversary
For 25 years, Hospitality Design magazine has awarded industry leaders—designers, architects, hoteliers, restaurateurs—with the Platinum Circle designation. Over the years, more than 100 honorees have been celebrated for a lifetime of achievement in their respective fields, creating a virtual who's who of hospitality.
This Black Tie Festive event honored past
Platinum Circle Awards Winners — including Barbara Lazaroff.
Tuesday, November 12, 2013
5:30 p.m. VIP reception
(Current & Past Platinum Circle honorees & sponsors)
6:30 p.m. Cocktails
7:30 p.m. Dinner & Awards Ceremony
Conrad Hotel
New York City
Typically been held in Las Vegas, this was the first time NYC saw this event.
Tickets, $350 each.
For event info visit HDPlatinumCircle.com.
To learn more about Hospitality Design visit HospitalityDesign.com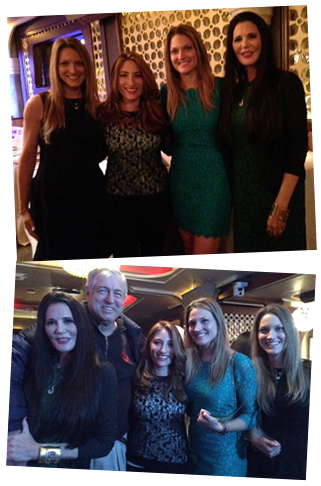 ---
Careers through Culinary Arts Program, Inc.
C-CAP Junior Benefit, A Taste of Fall
Barbara enjoyed this walk-around-tasting event and very much enjoyed seeing her own god-daughters, Alexandra Leavenworth and Nicole Leavenworth honored.
The event featured C-CAP graduate chefs from NYC's top restaurants with superb wines and cocktails, a silent auction, and live music from the David Grausman Trio.
Careers through Culinary Arts Program (C-CAP) is a national nonprofit organization founded in 1990. It works with public schools across the country to prepare underserved high school students for college and career opportunities in the restaurant and hospitality industry.
Monday, November 11, 2013
6:30 – 9 p.m.
Marcus Samuelsson's Ginny's at Red Rooster
310 Lenox Avenue
New York, NY 10027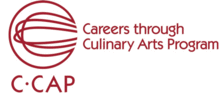 ---
The Magnolia Council's


Tower Cancer Research Foundation
2013 Spirit of Hope Luncheon & Boutique

Barbara Lazaroff joined fellow attendees to honor her dear friend, the delightful woman and renowned performer
Lorna Luft. "Lorna is recent breast cancer survivor and patient of Philomena McAndrew, MD and the team at Tower Oncology Cedars-Sinai." Also on Lorna's team: Jerrold Steiner, MD, who was also honored at this event and David Agus, MD.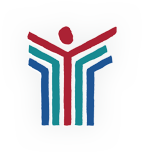 Funds from the annual luncheon benefit the Tower Cancer Research Fund and their many cutting edge research trials.
Monday, November 4, 2013
10 a.m. – noon: Boutique
Noon: Luncheon, Program & Opportunity Drawing
Drawing featured:
Stunning 70" strand of cultured pearls – valued at $5,500
A shopping experience w/personal shopper Tony Ferreira at Barney's
New York – Beverly Hills – valued at $1,000
Other exciting prizes
The Beverly Hills Hotel
9641 Sunset Boulevard
Beverly Hills, CA 90210
(hotel website)
Tickets are $175.
For more information please visit this page at TowerCancerFoundation.org or leave a message for Linda David at 310 299 8472.
You can learn more about The Magnolia Counci here.
---
Los Angeles Jewish Home "Arts Scene" luncheon
The Los Angeles Jewish Home began when a small group of caring neighbors, including grocer Simon Lewis, gave shelter to five homeless Jewish men at Passover. By 1916, Lewis had raised enough funds to purchase the Home's first permanent structure. Many gifts have come since then, providing much growth and many excellent services.
In October, Barbara played a small helping role, during their "Arts Scene" Luncheon, speaking in her own private dining room. Barbara was guest speaker as conversation covered design, of course, and a first look at her new Flame of Life line, based on her Flame of Life poem, the original theme of Spago Beverly Hills.
Wed, October 9, 2013
Luncheon
Spago Beverly Hills
Private Dining Room
176 North Canon Drive
Beverly Hills, CA 90210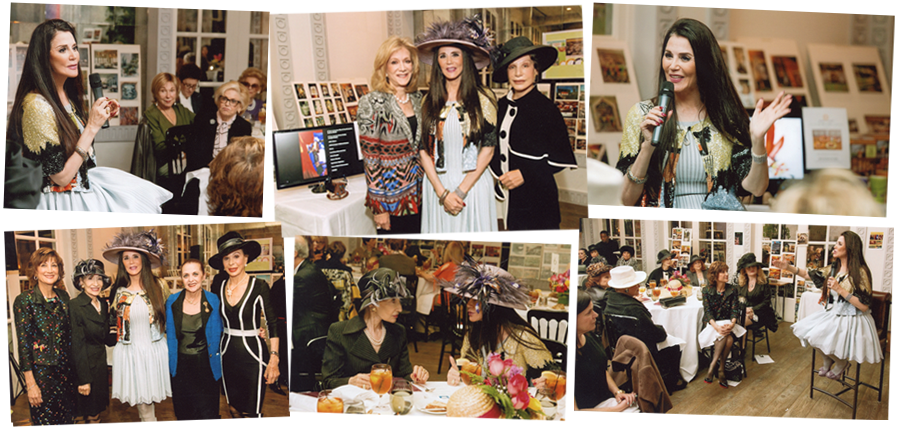 ---
Bel Air Affaire


AFHU's Western Region held an evening in Bel Air hosted by Brindell Gottlieb.
This annual event supports scholarships which enable students to attend the Hebrew University of Jerusalem.
Saturday, September 21, 2013
At a private residence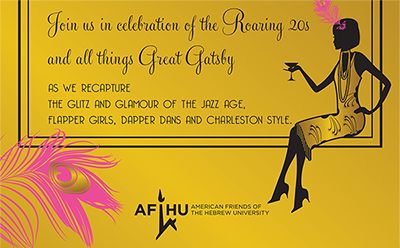 To learn more about The AFHU visit AFHU.org.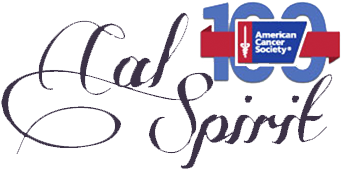 ---
Cal Spirit Gourmet Food & Wine Gala American Cancer Society XXIX
Co-founders Barbara Lazaroff and Sherry Lansing again co-hosted Cal Spirit 29, a fabulous day full of fine food and fine wine in support of the American Cancer Society.
In addition to an afternoon of gourmet food and wine, there were also silent and live auctions — and, of course, musical entertainment.
Supporters attended via Individual ticket or via Sponsorship.
Sunday, July 28, 2013
4:00 p.m.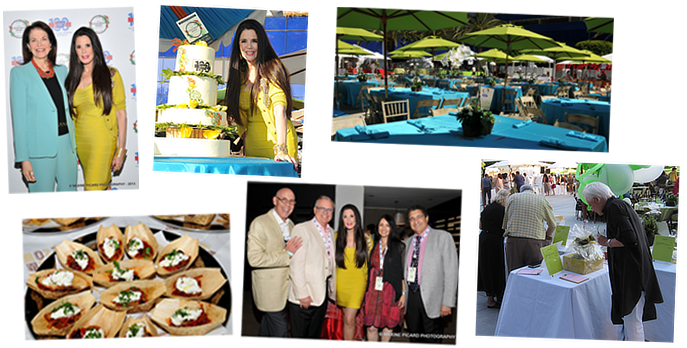 Pacific Design Center
8687 Melrose Avenue
West Hollywood, CA 90069
Honorees
John Shaffner & Joe Stewart
Shaffner/Stewart Production Design
Philomena McAndrew, MD
Tower Hematology Oncology Medical Group
Solomon I. Hamburg, MD, PhD
Tower Hematology Oncology Medical Group
Brooke Burke-Charvet – Co-host of Dancing with the Stars, actress, dancer, entrepreneur, and mother of four.

For more information, visit CalSpirit.org.
---
Academy of Business Leaders — Beyond ABL
Barbara Lazaroff was one of the panelists and workshop leader/mentors at the Academy of Business Leadership 2013 Summer Business and Leadership Institute's (SBLI) "Beyond ABL" day. The topic of the panel and sessions were "Hospitality, Design, and Philanthropy."
Event producer, Anna Ouroumian explained the event well in her pre-event email to Barbara:
"For Beyond ABL we bring our scholars together from all sites and have our special speakers conduct an intimate group workshop. …panel to provide our scholars with maximum exposure and access at the highest levels so that they can one day see themselves in YOUR shoes. This year, you will be serving on the "Roads to Success" panel. I took the liberty of assigning you a topic(s) based on your career path."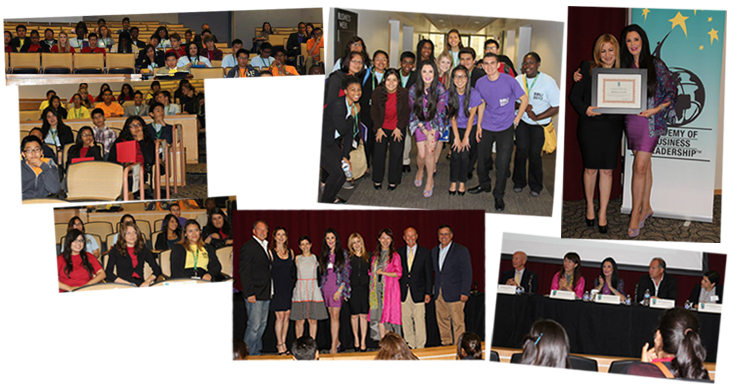 Afterwards, Barbara posted:
"ABL's young people are inspiring…and a great morning wake-up with their enthusiasm and sheer joy in wanting to create, do and lead!"
Indeed, ABL has over 100 scholars from over 52 Elementary – High Schools throughout So Cali, each working on their own business plans with MBA Instructors from the country's top business schools.
Thursday, July 18, 2013
9:15 a.m −10:20 a.m Workshops
10:30 a.m. − noon Panel
Academy of Business Leaders — Beyond ABL
Loyola Marymount University (LMU)
LMU Conrad Hilton College of Business Administration
Los Angeles
To learn about ABL, visit goABL.org. There, you'll also find contact info for Anna Ouroumian, re-founder of the program.
---
KindredSPIRITS at Walt Disney Concert Hall
The 2013 beneficiary was the Cancer Support Community (CSC). CSC ensures that all people impacted by cancer are empowered by knowledge, strengthened by action, and sustained by community.

Sunday, June 23, 2013
7:30 p.m.
Walt Disney Concert Hall
111 South Grand Avenue
Los Angeles, CA 90012
You can learn more at KindredSpiritsLive.org or by calling 323-319-4849.
---
Business Rockstars
On June 19, Barbara Lazaroff was in the CBS studio and on the radio live as a Business Rockstar. She was there for half an hour, sharing Business insights with with Business Rockstars Co-Founder and Host Ken Rutkowski.

As described at BusinessRockstars.com:
"Barbara Lazaroff, Co-Founder, Owner, and Designer of Spago and other Wolfgang Puck Restaurants, discusses the glass ceiling women have traditionally faced in business and why the problem will fade for future generations. She also discusses how you must present yourself professionally and why you must never under dress."
She and Ken talk about more, too, of course. For example, they discuss how young men and women can prepare for the workforce. Plus, Barbara shares a few secrets of success in the restaurant business — which is easily transferrable to other businesses as well.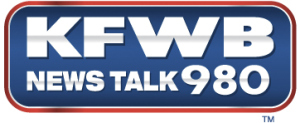 Wednesday, June 19, 2013
Business Rockstars
KFWB News Talk 980, a CBS station
If you missed it live or wish to hear it again, you can listen to Barbara's segment at this link at Businessrockstars.com. To hear Barbara's segment, click the play icon, then click inside the play area to arrive at minute 10. She is up from minute 10 to minute 41:30.
---
AIA/LA Restaurant Design Awards
Barbara Lazaroff returned as host of the annual Restaurant Design Awards.
She has actually presented at every Restaurant Design Awards ceremony.
Quoting the Dwell on Design Blog: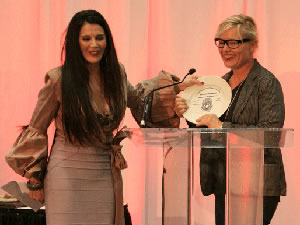 "Barbara was on the very first jury panel of the RDAs [Restaurant Design Awards] when it all started nine years ago, and has since presented at every RDA [Restaurant Design Awards] ceremony," says Carlo Caccavale, Associate Director of AIA/LA. "There has always been a perfect balance of sympathy and chemistry between Barbara and the RDA program."
"Barbara wonderfully embodies the spirit of Los Angeles food hospitality," continues Caccavale. "She and her former husband, Wolfgang Puck, created a completely new and innovative food and design experience in L.A. and opened the door to a new level of inventiveness both in the preparation of the dishes and in creating the theatricality of the restaurant experience." And, he adds, "We really appreciate her fun personality and great sense of humor that she brings to the RDA ceremony."
Saturday, June 22, 2013
4:00 p.m.
Onstage at Dwell on Design
LA Convention Center
1201 S. Figueroa Street
Los Angeles, CA 90015
---
Tower of Hope Gala
Barbara was part of the festivities as actor Mandy Patinkin hosted and helped present to three honorees.
Barbara Federman received the Hope Award, Dr. Robert Decker received the Healing Award and
Bruce Schulman received Humanity Award.
Wednesday, May 15, 2013
5:30 p.m. Silent Auction & Cocktail Reception
7:00 p.m. Dinner
Beverly Hilton
9876 Wilshire Blvd
Beverly Hills, CA 90210
---
Cedars Sinai Medical Center's

Helping Hands Mother's Day Luncheon and Luxury Boutique
B

arbara was on hand to see Lea Porter and Tori Spelling honored in support at this
84th Annual Mother's Day Luncheon for Cedars Sinai Medical Center.
Friday, May 10, 2013

The Beverly Hills Hotel
9641 Sunset Boulevard,
Beverly Hills, CA
---
Cedars Sinai Medical Center's Women's Guild Annual Luncheon

Woman of the 21st Century

Friday, May 3, 2013
The Beverly Hills Hotel
9641 Sunset Boulevard,
Beverly Hills, CA
Barbara was on hand to enjoy the styles of award-winning Fashion Designer David Meister
and to help honor Victoria Reggie Kennedy, co-founder of the Edward M. Kennedy Institute.
For more information visit the Women's Guild website at WomensGuildCS.org.
---
NAWBO-LA 27th Annual Leadership & Legacy Awards Luncheon

Outside the Box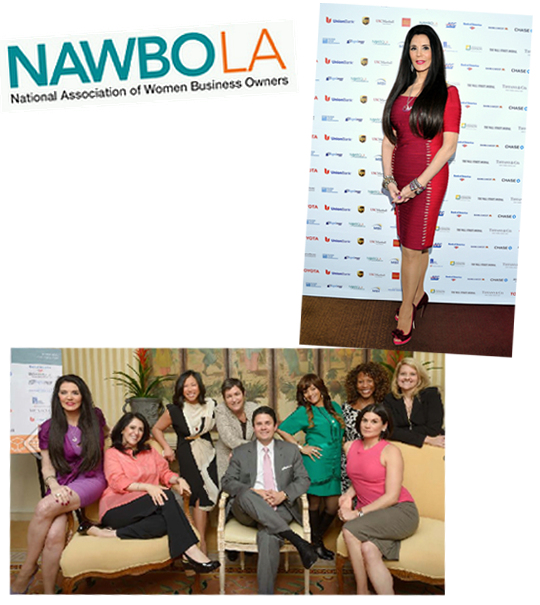 As is the case each year, a lot of important networking took place at this year's National Association of Women Business Owners, Los Angeles Chapter annual awards luncheon.
This year Barbara Lazaroff was honored with NAWBO-LA's Legacy Award — for a lifetime in philanthropy. in a room again filled with over 1,000 businesswomen who are leaders, rising stars, and talented entrepreneurs. Barbara and those women represent one billion in business dollars, and employee many thousands in Los Angeles. She said it was "even nicer than my 2000 Hall of Fame NAWBO award because I know that our lives matter more when others matter more."
This video was played to the audience as Barbara waited backstage to receive her award.
Friday, April 26, 2013
11:00 a.m. – 2:00 p.m.
JW Marriott Los Angeles at L.A. LIVE
900 West Olympic Boulevard
Los Angeles, CA 90015
More information about NAWBO-LA and the NAWBO-LA Foundation,
is at NAWBOLA.org
or via phone at 213-622-3200.
---
Zimmer Children's Museum
2013 Show & Tell Exhibit
The Art of Giving
The Zimmer Children's Museum uses art and creativity to help young minds explore new ideas and develop their own.
As in the many previous years, artists and humanitarians generously and enthusiastically donated sculpture, paintings, photographs, mixed media masterpieces — and their time and hearts to benefit youTHink — the Zimmer's youth development program.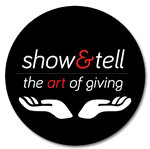 Thurday, April 25, 2013 through Sunday, June 20, 2013
The Bell Family Gallery in the Jewish Federation Building
6505 Wilshire Boulevard
Los Angeles, CA 90048
For information please call 323-761-8141.
To learn more about the museum, please visit ZimmerMuseum.org
or for this exhibit, visit this page at the site.
---
Big Brothers Big Sisters of Greater Los Angeles
Access
ories

for

Success
Spring Luncheon & Fashion Show

Leading Hollywood publicist Howard Bragman, presently Chairman of Fifteen Minutes Public Relations introduced "Innovator Award" honoree Barbara Lazaroff. He stands beside Barbara Lazaroff in this photo. On Barbara's other side is Tiffany Siart, President and Chief Executive Officer of Big Brothers Big Sisters of Greater Los Angeles. On Tiffany's other side is "Excellence in Mentoring Award" honoree Lori McCreary, CEO of Revelations Entertainment and Producer of "Invictus" and the Emmy-nominated "Through The Wormhole with Morgan Freeman." Lori was introduced by her business partner actor Morgan Freeman, who stands on her left side but likely needs no introduction from us here.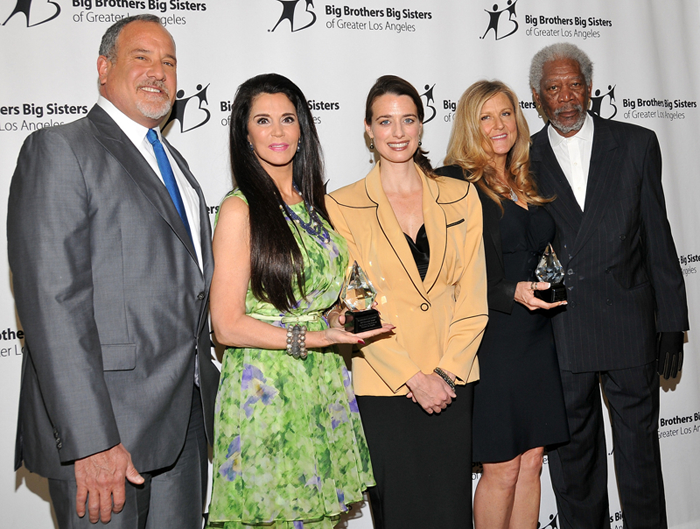 Friday, April 12, 2013
10:30 a.m. Luxury Boutiques opened
Beverly Hills Hotel
Crystal Ballroom
9641 Sunset Boulevard
Beverly Hills
For information, please call Grant Associates at 323-04-4400.
To learn more about Big Brothers Big Sisters of Greater Los Angeles please visit bbbsla.org.
---
Spago's 29th Annual Seder

benefiting Mazon, A Jewish Response To Hunger
Barbara again — for the 29th time — hosted a fabulous seder and an unparalleled meal prepared by the excellent Spago staff. Once again, this year, 250 attendees, a full house, enjoyed a Seder like no other, while helping feed others.
As always, this event sold out. You can reserve now for 2014.
Tuesday, March, 26, 2013
6:00 p.m. – 10:00 p.m.
Spago Beverly Hills
176 North Canon Drive
Beverly Hills, CA 90210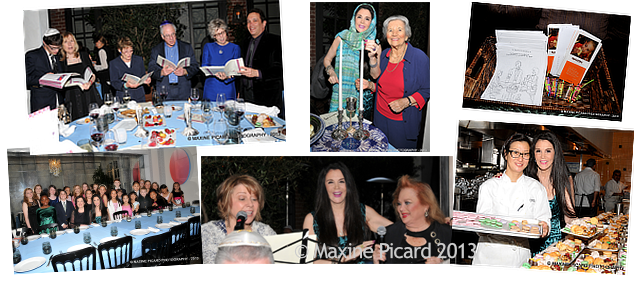 For more information about Spago visit WolfgangPuck.com.
For information or reservations for the 2014 Seder, please call Ellen Farentino of Spago Beverly Hills at 310-385-0880 or email Ellen at ellen.farentino@wolfgangpuck.com.

---
Spring Market 2013: A Day of Design, Just For Designers

a presentation of the Laguna Design Center
Barbara Lazaroff gave the first of the two keynote presentations during this day of learning and unique showroom events.
Barbara's keynote presentation was entitied:
FROM PLATE TO PALETTE: A Designer's Footprint for Creating a Global Restaurant and Product Brand.
Tuesday, March 19, 2013
9:00 a.m. – 5:00 p.m.
Barbara's keynote: 10:00 a.m.
Laguna Design Center
23811 Aliso Creek Road, Suite 105
Laguna Niguel, CA 92677
Office: 949-643-2929
For more information call the Laguna Design Center office at 949-643-2929 or visit LagunaDesignCenter.com/events.
---
Hospitality Design Summit
13th year
"HD Summit is designed to sharpen the leadership skills executives need daily-and to provide the big ideas needed to stay ahead of the competition."
February 27 – March 1, 2013
La Costa Resort & Spa
Carlsbad, CA
To learn more please visit hdsummit.com.
---
85th Academy Awards, aka The Oscars
As is her long-time tradition, Barbara was there!
Sunday, February, 24, 2013
Hollywood & Highland
Hollywood, CA
---
Chinese New Year at Chinois

Year of the ssSerpent
Chef Rene Mata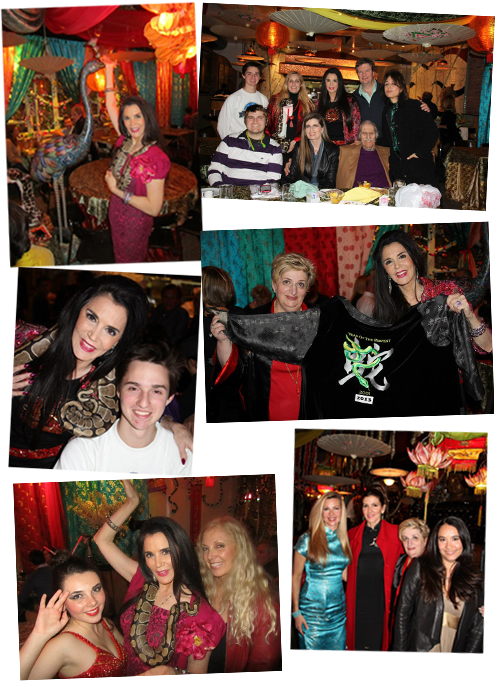 Sunday & Monday, February 10 & 11, 2013
First seatings: 6:00 p.m. to 8:45 p.m.
Second seatings: 8:45 p.m. on
Chinois On Main
2709 Main Street
Santa Monica, CA
Charming in personality and elegant in dress, the serpent is a skeptic and deep thinker and likes to judge by intuition. Their very presence is powerful. The serpent catches the eye of a whole room at once, and by their very carriage, manages to keep it riveted on them. They are fortunate in wealth throughout life. Serpent years are: 1929, 1941, 1953, 1965, 1977, 1989, 2001, 2013
The 6-Course Menu
ssSlithering sashimi of yellowtail, salmon, tuna tartar
Thai coconut ssseafood sssoup with lemon ginger grass
ssSavory Dim-Sum Delights: ssseafood shumai, ssshrimp spring rolls, chicken pot ssstickers
ssSteamy catfish rolls ssstuffed with winter vegetables and cilantro
Served with ssstir-fried bok choy
Exotic 5 ssspice rubbed, oven roasted French beef with long life chinese noodles
Chinese "Phyton" dessert
To learn more about Chinois and this special menu, please call 310-392-9025 or visit the official website.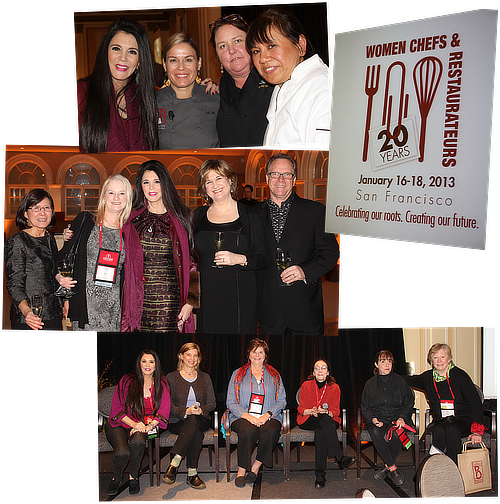 ---
Women Chefs & Restaurateurs
20th Anniversary Conference
Celebrating our roots. Creating our future.
Barbara Lazaroff is one of the co-founders of this organization and joins the organization in inviting culinarians and hospitality professionals representing every industry segment and role to attend.
January 16-19, 2013
Sir Francis Drake Hotel
Union Square
San Francsico, CA
To learn more, please visit womenchefs.org.