2023 Past Events


Here are some of the events that Barbara Lazaroff helped with, spoke at, or supported in 2023.
---
Aviva LIFTING UP LA — A Night of Hope in Hollywood
Saturday, June 3, 2023
6:00 – 9:00 p.m.
AVALON Hollywood
1735 N. Vine Street
Hollywood, CA 90028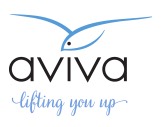 Individual Ticket: $400
Sponsor Ticket: $500
To purchase tickets and see other sponsorships available visit Aviva.org/gala.
To learn more about Aviva, please visit aviva.org.
---
Los Angeles Zoo's Beastly Ball 2023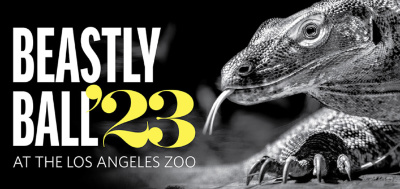 An unforgettable evening of adventure and philanthropy, benefiting the Greater Los Angeles Zoo Association. The "best party in town" returns with favorite L.A. eateries, special animal experiences, dazzling entertainment, an incredible silent auction, and more.
This is the Greater Los Angeles Zoo Association's largest and most important fundraiser of the year, bringing in critical support for our work on behalf of the Los Angeles Zoo and its efforts in wildlife conservation, public education, and creating innovative experiences to connect people with nature.
Hosted by:
actor and comedian Joel McHale
Beastly Ball Honoree:
Diann H. Kim
Betty White Conservation Hero Honoree: Tom LaBonge, posthumously
Saturday, June 3, 2023
6:00 – 8:30 p.m. — Enjoy extraordinary animal experiences, delectable fare from iconic L.A. eateries, dazzling entertainment, and silent auction
8:30 p.m. — Program
9:00 p.m. — Dancing, carousel rides, and more entertainment Late-night bites, desserts, and drinks
Los Angeles Zoo
Suggested Attire: Black and white with a pop of color! Comfortable footwear is encouraged.
For more information, please visit LAzoo.org/BeastlyBall
Enjoy the official Beastly Ball 2023 video here (or at the LA Zoo site).

---
The Spring Beverly Hills Art Show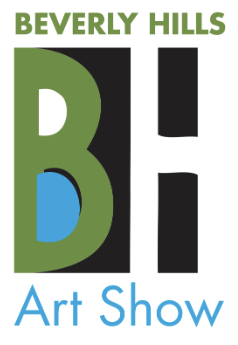 This free show features art by artists from around the nation who showcase their work in painting, sculpture, watercolor, photography, mixed media, ceramics, glass, jewelry, drawing and printmaking.
Barbara attends most years and hopes to attend at some point this year. Barbara is a longtime supporter of independent artists. She has found and purchased many amazing pieces of art at the twice yearly show.
The show is four garden blocks in the center of the city of Beverly Hills. It will be brimming with 325 artists from throughout California, the Southwest and the rest of the country. All of the fine arts and crafts are original, ranging from the traditional to the very contemporary, and are represented by the artists themselves.
A Wine and Beer Garden, demonstrating artists, children's activities, gourmet food trucks and several community exhibits can be found as well.
Admission is free.
This event takes place rain or shine!

Saturday & Sunday, May 20 & 21, 2023
10:00 a.m. to 6:00 p.m.
Beverly Gardens Park
For more information including parking information, and the show floor plan, please visit
beverlyhills.org/departments/communityservices/beverlyhillsartshow/artshowinformation/
---
Celebrate Mom with Spago's All-Day Mother's Day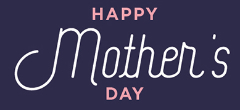 Spago is excited to welcome families back to the Spago main dining room and charming courtyard patio to celebrate Mom.
For Mother's Day, Wolfgang Puck's flagship restaurant in the heart of Beverly Hills is featuring world-class live jazz by The Rachel Avalon Quartet direct from her Disney Concert Hall debut. These vintage-inspired velvet vocals will grace the day & evening to celebrate Mom.
Enjoy a delightful 4-course menu including:
Amuse by Chef de Cuisine Areg Avanessian & Chef Della's Pie & Cake Pop-up Shop
Sunday, May 14, 2023
Seatings from 12:45 p.m. to 8:00 p.m.
Spago Beverly Hills
176 North Canon Drive
Beverly Hills, CA 90210
(310) 385-0880
$195 per person, $85 for children 10 & under.
You can view details and purchase a reservation at SevenRooms.com/experiences/spagobh.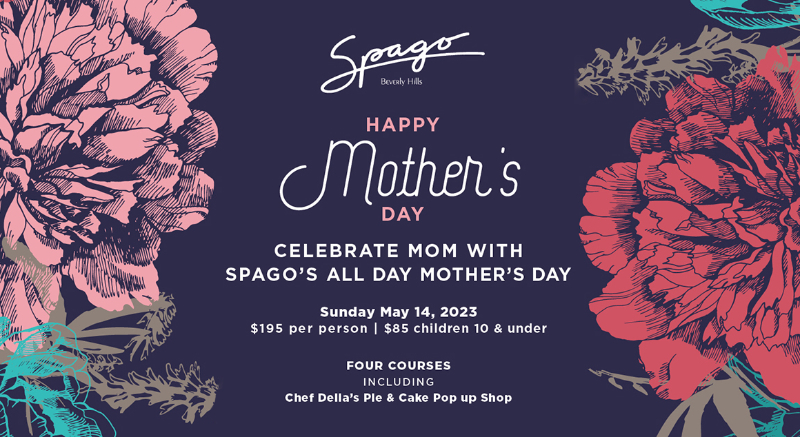 ---
Tower Cancer Research Foundation


Annual Tower of Hope Gala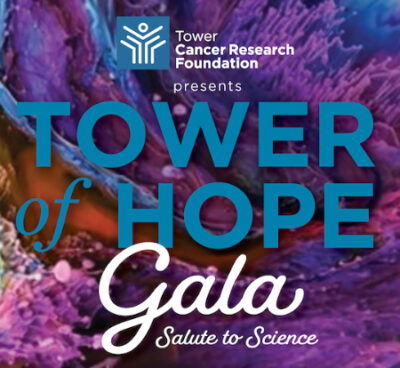 The Tower of Hope Gala is TCRF's largest fundraiser of the year. Every dollar raised advances groundbreaking research and profoundly supports people affected by cancer.
Thursday, May 11, 2023
6:00 p.m.
Beverly Hilton Hotel – Wilshire Garden
9876 Wilshire Boulevard
Beverly Hills, CA
Individual Tickets are $750.
Sponsorship begins at $3,000.
For more info about this gala fundraiser, tickets, and sponsorship opportunities, please visit this page.
For more about the Tower Cancer Research Foundation, visit TowerCancer.org.
---
Hunger is Solvable: An Evening With No Kid Hungry

The Los Angeles No Kid Hungry Dinner celebrates the commitment of local leaders who make an impact for kids in need. The dinner provides a unique opportunity to connect and celebrate donors, program stakeholders, and culinary supporters for their commitment to ending childhood hunger. Barbara is one of the many sponsors.
The evening will feature a one-of-a-kind dining experience with some of the most extraordinary culinary talent in California.
Three amazing women who have all shared their strength with the world in unique and creative ways will be honored:
Alecia Moore, singer and songwriter known as P!nk
Alice Waters, chef, author, food activist, & founder of Chez Panisse
Sherry Yard, pastry chef, restaurateur, & cookbook author
The event also recognizes Corporate Champion Williams Sonoma, who has been a longtime corporate partner.
Thursday, April 27, 2023
6:00 p.m. Cocktail Reception
7:00 p.m. Dinner and Program
Private Home in Los Angeles
Individual tickets are $750.
Sponsorship opportunities begin at $5,000.
If you have questions, contact Christina Donatelli at cdonatelli at strength.org or Kathleen Polenzani at kpolenzani at strength.org
---
American Friends of Sheba Medical Center


Cocktails in the Garden
celebrating Women of Achievement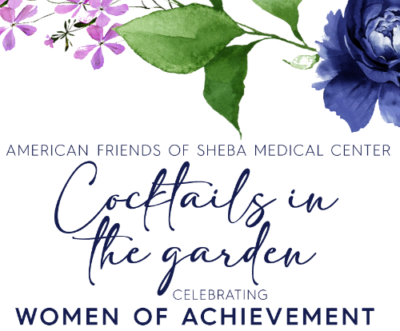 Sheba Medical Center works to save lives and advance healthcare in Israel & around the world.
Featured Speaker: Professor Yael Peled, MD
Professor Peled is the Director of the Heart Transplant Service and Heart Failure Hospitalization Unit at Sheba Medical Center.
She is a national and international leader in near transplantation.
In Israel, she rewrote the rules for heart transplantation that resulted in a 50% increase in successful heart transplants nationally.
Internationally she is the first Israeli asked to sit on the Board of the International Society for Heart and Lung Transplantation and is considered the foremost global expert in Covid, vaccines, and heart transplantation.
In memory of Chara Schreyer Z"L
Eldest daughter of Holocaust survivors Sala and Max Webb (long-time friends of Sheba Medical Center)
Sunday, April 23, 2023
5:00 p.m.
Held at a Private Home in Bel Air Crest
Cocktails and dinner will be served
Dietary laws observed
Dress is smart casual. Hats encouraged.
Tickets:
$300 individual
$500 couple
$180 for Sheba 2.0 Young Professionals
For tickets and more information visit this page.
Learn more about the American Friends of Sheba Medical Center.
---
Project Angel Food's Circle of Angels
Garden Party
Barbara was on the host committee in 2019 for this annual event and was asked to return this year. However, she has conflicting plans this year.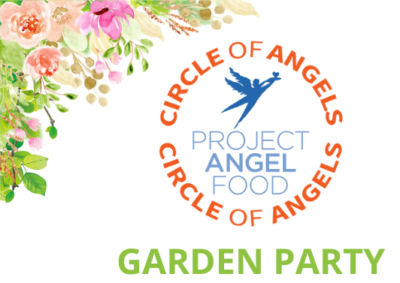 Project Angel Food prepares and delivers nutritious, Medically Tailored Meals to critically ill people who are often isolated and alone. These meals are not only saving lives and ending food insecurity, but with the hope and compassion that is part of our mission, we are bringing comfort and hope every day.
Circle of Angels members are the bedrock of support for Project Angel Food, providing a quarter of the more than One Million meals we deliver annually to clients impacted by serious illness. When you join Circle of Angels, you're not just nourishing bodies—you're nourishing souls.
This special event is Project Angel Food's annual recognition event for Circle of Angels Members. Guests will be invited to join, renew, or increase their support.
Project Angel Food is a 501(c)(3) nonprofit organization.
Hosted by Tim Robinson
Special Musical Performance by Platinum Recording Artist & American Idol Superstar
David Archuleta
Remarks by Project Angel Food's CEO, Richard Ayoub
Live Auction by Gabriel Butu
Levels of support:
Platinum ($12,000+), Gold ($6,000-$11,999), Silver ($1,500-$5,999)
Sunday, April 23, 2023
4:00 p.m. – 7:00 p.m.
This event is being held at a private home in Beverly Hills
Garden Party Attire
Valet Parking Available
---
Spago's 39th Annual Seder
hosted by Barbara Lazaroff
benefiting Mazon, A Jewish Response To Hunger
Barbara Lazaroff, co-founder and owner of the renowned Spago Beverly Hills restaurant, is holding her annual Passover Seder for the 39th consecutive year, on Thursday, April 6th 2023.
The event will once again benefit MAZON, The Jewish Response to Hunger, which is a global national working to end hunger among all faiths and backgrounds in the United States and Israel. The seder dinner raises funds that help families specifically in Los Angeles.
"I created this event at the original Spago in Hollywood when I realized there were others like me who felt detached from their families as life had become more fragmented," Lazaroff said. "Over the years this festive event continues to be a heartfelt and delicious tradition that brings together guests of all ages and backgrounds."
In addition to the spirited service led by Rabbi Rachlis and Cantor Braier, The West Los Angeles Children's Choir sings two specially prepared songs to start the evening. The Kings of Klezmer will also be performing lively folk music.
Chefs Areg Avanessian, Ari Rosenson and Pastry Chef Della Gossett and their talented staff prepare an exquisite menu of holiday specials.
Custom homemade gefilte fish, chicken and vegetable matzah ball soup, roasted wild Alaskan King Salmon, braised Beef Short Rib "Flanken," Vegetable Ratatouille & roasted Moroccan Carrots, and the now famous Spago oven baked Matzah.
Chef Della's gorgeous dessert buffet ranges from Matzah Toffee, Fromage Blanc Cheesecake, Passover Puffs with Caramel Sauce, sorbet, a variety of fresh fruit and more.
Each guest also receives Spago's unique oven-baked Matzah and Macaroons packaged to-go!
Michael Young wine director of Taub Family wines will provide a selection of the finest Israeli wines whose vines date back 3000 years.
Every year people of varied cultures and religions attend the Seder Festivities where they get a sophisticated introduction to Jewish cuisine and customs. "I feel if you share your traditions and celebrations with all, it fosters tolerance, greater harmony and a closer understanding among all people, dispelling the idea of 'the other' and creating commonality as we support food challenged families in LA."  Lazaroff added.
If you're curious about the event you can see a video here on Barbara's Instagram page at instagram.com/reel/CqmrpiVDviQ. Or you can read this article in the Beverly Hills Courier, Spago Seder to Serve Memorable Passover Experience.
Here's an article about this 2023 Seder in the Beverly Hills Courier: Spago Seder Delights Nearly 300 Guests in Beverly Hills.
Thursday, April 6, 2023
Doors open at 5:30 p.m.
Dinner and Service begin promptly at 6:00 p.m.

Spago Beverly Hills
176 North Canon Drive
Beverly Hills, CA 90210
This year's Seder sold out and closed for reservations quickly. Space in Spago was maxed out until no more tables could be added. Barbara looks forward to seeing you at next year's Seder if it's of interest to you.
Tickets are $250 per adult and $90 per child (12 and under). Guests were able to reserve by calling Taher at Spago at 310-385-0880 or booking online at SevenRooms.com/experiences/spagobh.

---
C-CAP National Benefit
The most beloved annual food fundraiser in NYC! Barbara won't be able to attend this year as it is just days before her Spago Beverly Hills Seder but she'll be there in spirit.

Get into The New York Plate of Mind as we bring together a wide range of supporters in our industry—the best chefs, pastry chefs, bakers, craft beverage producers, winemakers, food entrepreneurs, and more—for an incredible walk-around food-and-drink tasting.
Feast on signature dishes from:
Tom Colicchio's Vallata, Kwame Onwuachi's Tatiana, Marcus Samuelsson's Red Rooster, Hillary Sterling's Ci Siamo, Chintan Pandya's Dhamaka, Melba Wilson's Melba's, Sohui Kim's Gage & Tollner's, Daniel Boulud's Bar Boulud, Mary Attea's the Musket Room, Markus Glocker's Kolomon, Rocco DiSpirito's Made by Rocco, and many more!
It's also an opportunity to learn more about our mission and impact, mingle with the best and brightest in the food industry, and connect with our talented community of C-CAP students and alumni.
The National Benefit raises critical funds for our organization, supporting our continued programming in hundreds of high schools, and the 20,000+ students we work with every year.
Hosted by C-CAP's co-chair chef Marcus Samuelsson, this year's benefit honors Restaurant Associate's CEO, Chef Ed Brown and is chaired by Warren Thompson, President and Chairman of Thompson Hospitality Corporation.
Monday, April 3, 2023
5:45 p.m. (VIP)
6:30 p.m. (General Admission)
Pier Sixty
Chelsea Piers
NYC, New York
Please come dressed in "business smart"—suits, cocktail dresses, blazers, and formal footwear.
You can see more information and purchase tickets here.
---
Barbara appears on Will Knox – Mr Restaurant

Barbara joined Will Knox on his Mr. Restaurant radio show and podcast.
About the show:
Renowned restaurant real estate specialist, Will Knox,  serves up a fresh look at the restaurant business. On the menu: Celebrity chefs. Start-ups. Operators. Deal makers. Designers. And those are just some of the appetizers. Mr. Restaurant is a segment of The Jeremiah Show.
Will and Barbara go way back… he's the real estate broker who found the original Spago location. They certainly have plenty to talk about. So as we move into April, Barbara is the main course, talking about life and business and whatever else they speak of.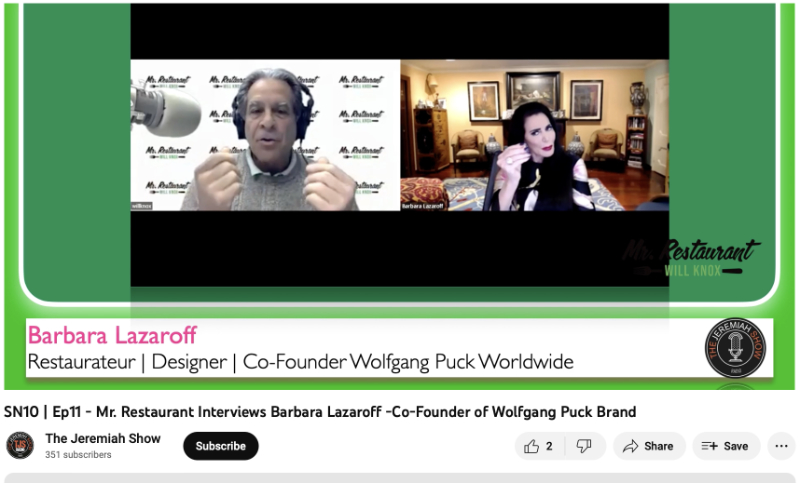 The program was recorded on
Thursday, March 30, 2023
It aired on several on-air radio stations, including Somerset, England.
You can listen to it at your leisure here at Apple podcasts or watch the recording of the interview on YouTube at youtube.com/watch?v=eSumJ14mL84.
---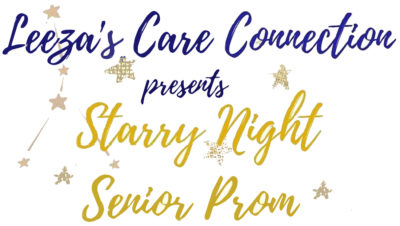 Leeza's Care Connection
presents "Starry Night" Senior Prom
Hors d'oeuvres, Drinks, Dancing
From High School seniors to Senior Citizens and everyone in between, get ready to relive your prom night or make new memories!
You can come alone or ask your favorite person to join you, shine your shoes, or tie up your sneakers and enjoy a night under the stars.
Enjoy hors d'oeuvres, a cash bar, music and dancing under the stars.
You are welcome to dress up or down, it will be a night to remember either way!
100% of proceeds benefit the mission of Leeza's Care Connection — to help families cope with chronic illness through tips, strategies and support.
Many of our senior citizens have never attended prom or can't afford it. We invite you to "Send A Senior" to prom.
Prom Ticket: $75
Send a Senior Prom Ticket: $75
WIS Prom Ticket: $30
Table Sponsor (8 guests): $1,500

Thursday, March 23, 2023
7:00 p.m. — 9:00 p.m. Eastern
Special Private Party Reception for Sponsors starting at 6:15 p.m.
The Gala Event Center
1801 Bush River Rd
Columbia, SC 29210
For more info and to purchase tickets, visit LeezasDare2Care.wixsite.com/seniorprom
Or write to: assistantlcc2016@gmail.com
---
26th Annual West Hollywood
Women In Leadership Awards & Reception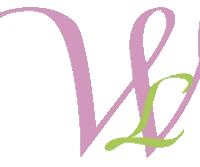 You are cordially invited to join the City of West Hollywood, its Women's Advisory Board, and the West Hollywood Chamber of Commerce for this West Hollywood Women In Leadership Awards & Reception
Barbara has a scheduling conflict so won't be able to attend but is a supporter of Catherine Gray and her She Angels Investors, one of the honorees. In fact, Barbara was a She Angel Investor in the past.
Enjoy appetizers, sweets, and complimentary wine, beer and non-alcoholic beverages.
This reception is generously hosted by the Andaz West Hollywood. Your $25 goes to benefit the City of West Hollywood Youth Scholarship Program
Wednesday, March 22, 2023
6:00 -8:00 p.m.
Andaz West Hollywood
8401 Sunset Boulevard (on the Sunset Strip)
West Hollywood, California  90069
For more information visit wila2023.eventbrite.com or phone (323) 848-6823
Onsite Parking $15
---
Byron Allen's 5th Annual Oscar Night Gala Fundraiser

Benefitting Children's Hospital Los Angeles
Byron Allen, founder/CEO of Entertainment Studios and owner of theGrio, brings some of the best industry LA illuminates together to celebrate the Academy Awards while supporting Children's Hospital LA in a big way. Barbara, having supported Children's Hospital LA through donations over the years and been a guest on some of Allen's productions, joined these live 95th Annual Academy Awards festivities.
Adding to the Oscar night glamour, nonother than legendary singer Diana Ross performed in person! The gala raised $1.5 million for CHLA. (Note: the 4th Annual was held in 2020.)
MC: Howie Mandell
Live performance by Diana Ross
Auction for CHLA by Byron Allen and Howie Mandel
Sunday, March 12, 2023
3:30 p.m. Byron Allen's Oscar Red Carpet & Cocktail Reception
5:00 p.m. Byron Allen's Oscar Dinner & Viewing
Beverly Wilshire
9500 Wilshire Blvd
Beverly Hills, CA 90212
To learn more about Children's Hospital Los Angeles, visit the CHLA website at CHLA.org.
---
Hospitality Design Summit 2023

HD Summit, presented by Hospitality Design (HD) magazine, is the industry's only networking conference focused on ideas outside hospitality.
For over two decades, hospitality design leaders have placed their faith in the HD Summit for ideas, wisdom, insight, and connections. And Barbara again plans to attend.
HD Summit is about one thing: People
There's never enough time to listen and engage in a hyper-speed world. Reconnect with people we know. Introduce ourselves to new ones. Carve three days out of 365 to connect, person to person.
The HD Summit reengages us, recharges our spirits, and rekindles relationships.
From all walks of our industry. Leader to leader. To gain inspiration from unlikely sources. To rethink. To meet. To engage. To share.
Most of all, you build relationships; we all want to do business with people we know and trust.
JW Marriott Desert Springs Resort & Spa
74-855 Country Club Drive
Palm Desert, California 92260
Wednesday, March 8 through Friday, March 10, 2023
For more information, to see videos of past sessions, and to register, please visit Summit.HospitalityDesign.com.
For the full agenda visit this page.
---
Valentine's Day Dinner
at Spago's One-night-only Supper Club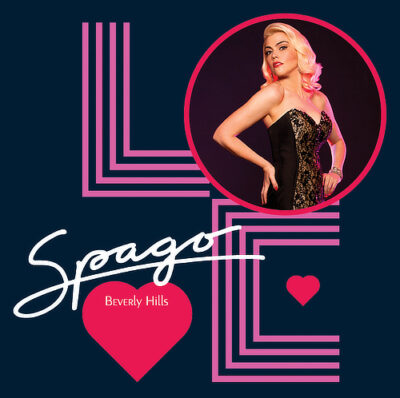 Spago was transformed into an elegant supper club featuring Verve Recording Artist Brenna Whitaker — Hollywood's Jazz and Blues siren — and her 7-piece band.
Guests celebrated with Spago's delectable dinner and desserts by Executive Chef Ari Rosenson and Executive Pastry Chef Della Gossett.
Brenna Whitaker, with her larger-than-life stage presence and haunting vocals, is a beacon for jazz aficionados, attracting seasoned entertainers, such as Quincy Jones and David Foster who produced her debut self-titled album.
Guests had a choice of three different experiences:
VIP Patio Experience
Dine at your exclusive patio table and enjoy access to the live entertainment at your leisure.
Four-course Selection Tasting Menu Plus Amuse
Includes Sumptuous Seafood Platter
Intimate Patio Seating
$295 per person
Showroom Experience — closest to the entertainment
Three-course Selection Tasting Menu Plus Amuse
World Class Dinner Show
$275 Per Person
Main Dining Room Experience (quieter)
Three-course Selection Menu Plus Amuse
$250 per person
Available upgrades: Caviar, Oysters and other aphrodisiacs
Tuesday, February 14, 2023
Seatings are offered from 5:00 – 10:30 p.m. 2-hour per table
Spago Beverly Hills
176 North Canon Drive
Beverly Hills, CA 90210
(310) 385-0880
<!– Reservations can be made at SevenRooms.com.
Tickets are pre-sold only and are non-refundable.
Beverage, tax, gratuity & supplements not included.—->
---
Ring in the Chinese New Year with style
at Chinois on Main!
The Rabbit symbolizes patience and luck. This suggests that the Year of the Rabbit 2023 will bring qualities that may have been lacking in the previous year, such as peace and success. op on board with Chinois on Main as we bring in the Year of the Rabbit with a feast for the senses.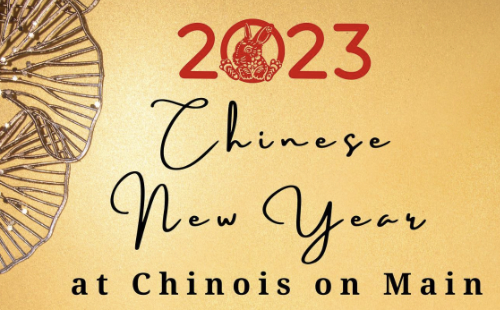 Our special menu and unique XOJU cocktails will tantalize your taste buds, while our lively entertainment and talented dancers will keep you hopping all night long.
Don't miss out on this unforgettable experience.
Sunday, January 22, 2023
Monday, January 23, 2023
Chinois on Main
2709 Main Street
Santa Monica, CA 90405
310-392-9025
MENU
Crudo
Blue Fin Tuna, Hamachi, Salmon, Ama Ebi
Dim Sum
Assorted Potstickers, Peking Duck Spring Rolls,
Baby Pork Ribs
Steamed Sea Bass
Steamed Sea Bass Wrapped in Napa Cabbage,
Fine Julienne of Ginger, Scallions in Warm Ponzu
Spicy Duck Fried Rice
Maine Lobster
Double Cooked Maine Lobster with Bob Choy,
Rock Shrimp and Garlic in a Black Bean Sauce,
Long Life Noodles
Kurobuta Pork
5 Spices Kurobuta Pork Loin with Haricot Verts
in Red Wine Citrus Sauce
Dessert
to ensure the coming year will be sweet
$185 (Menu only)
(Tax, tip, and beverage not included)
Chase the rabbit down the hole with our amazing XOJU cocktails
and the hoppity hop with our dancers
Call for seatings, specifics, and to reserve your spot: 310-392-9025