Outdoor Dining at Spago Beverly Hills!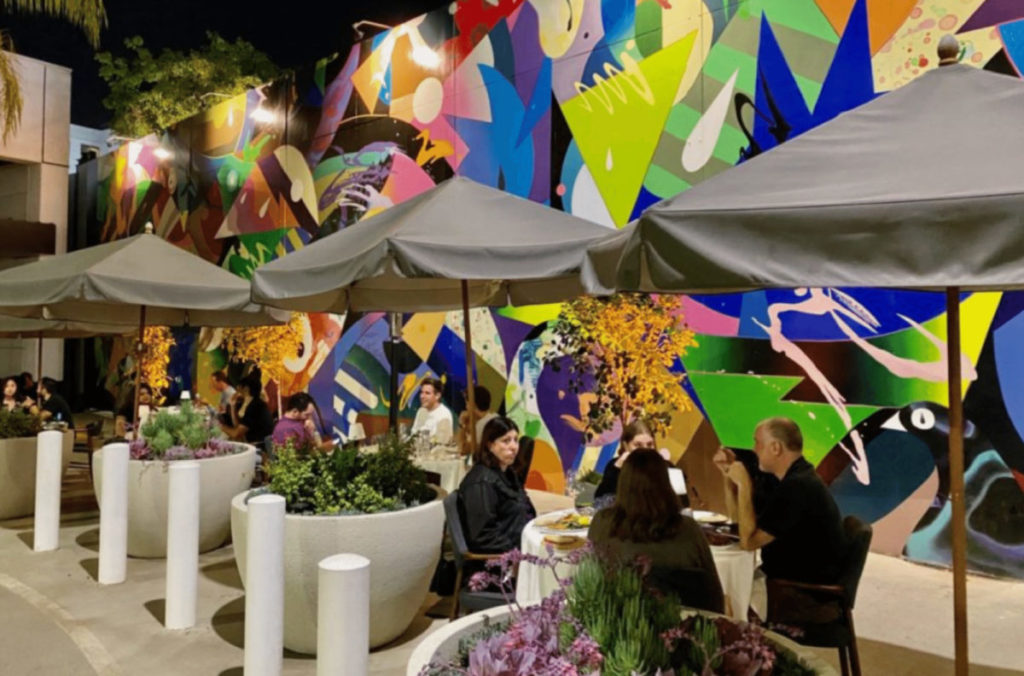 Where once people rushed across a busy street,
now folks relax with a fine meal to sit and eat.
Guests are loving the unique dining situation Spago has set up on Cañon Drive! This beautiful mural is actually an 80′ tall x 20′ wide sound wall that Barbara helped arrange with the MTA to separate construction of the new Metro Purple Line down Wilshire Blvd. She then worked with the City of Beverly Hills to commission the artwork. The mural, by Tomokazu Matsuyama, is called "Thousand Regards / Shape of Color." [more mural info]
The outdoor dining also runs along Cañon Drive up to Spago's front door.
And of course, the famous inner patio is, as always, an enjoyable place to dine.
All with appropriate space between tables than ever.
UPDATE NOVEMBER 24, 2020:
Unfortunately, because California hasn't done well with Covid this outdoor dining is on hold until the state permits it again.
There's still great take-out though, of course!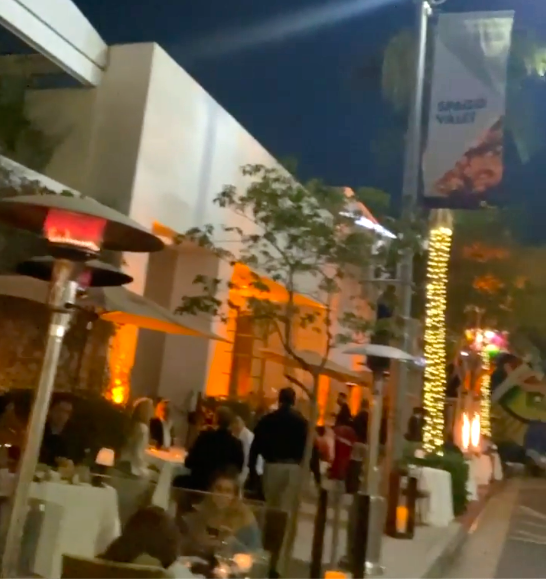 Spago Beverly Hills Menu & Dining Hours
Takeout
Wednesday – Sunday
5:30 p.m. – 9:00 p.m.
For takeout, please order online. While there are many fine take-out options, bear in mind that there is a wider range offered in person.
Online Ordering & Pickup
Spago offers two opportunities to for food-to-go. The menu, which changes weekly, is the same at both sites.


Order Spago takeout or delivery with Bbot.



Order Spago takeout for pickup with Tock.
You can also order delivery via DoorDash at Tock.
---
Spago's Location
Spago Beverly Hills
176 N Cañon Drive
Beverly Hills, CA 90210
(310) 385-0880‬
Due to the Metro's Purple Line on Wilshire Blvd, the turn from Wilshire to North Cañon Drive is closed. Actually, that's where you'll find the 80′ high wall pictured above. Both Google maps and Apple maps reflect this as they direct you.
---